Just got done with the second action-filled day at the FAST TRACK TO FITNESS MILLIONS event.  Man, today was crazy but I'll get to that later …
The first thing I've got say is how well run and polished this thing was – you'd hardly believe it was the first big event to be put on by fitness business experts Pat Rigsby, Nick Berry, and Jim Labadie.
And secondly, they attracted a tremendous crowd of nearly 300 personal trainers, bootcamp instructors, and fitness marketing entrepreneurs.   It was a sharp bunch of heavy hitters looking to do serious damage in this industry.
Lastly, what stands out is the incredible line-up of speakers.  The full gamut of topics on how exactly to succeed in fitness today (not 20 years ago) was covered from top to bottom.
The best part, for me was getting to meet up with all of the other industry people.  We're spread out all over the country, so these events are really the only time for all of us to meet face-to-face – that's what makes them so fantastic.
Here are some pics of a few of the people I hung out with over the weekend:
Here I am with one of the hosts, and coolest guys and shrewdest businessmen in the entire fitness industry, Pat Rigsby.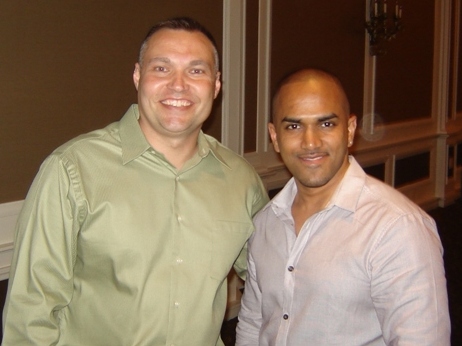 Here I am with my buddy Craig Ballantyne and another really cool trainer I met at the event (who's name I kept forgetting because I was confusing here with another trainer I know!).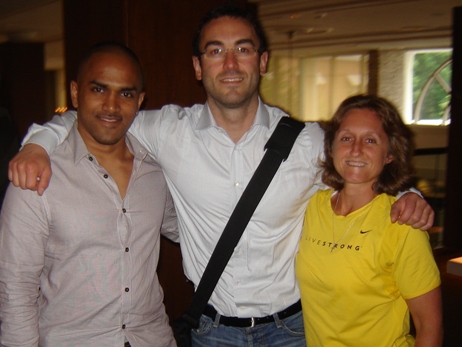 Here I am with some of the youngest and sharpest guns in the fitness marketing biz – Alex Moraco (who's killing it), Ryan Lee's right hand Geo Derise, and Pro BMXer turned businessman, Ryan.
Here I am with the corporate fitness mastermind Greg Justice, who's co-launching the APPT, an organization devoted toward improving the Personal Training Industry.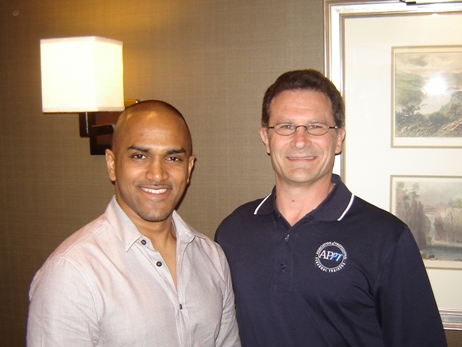 Here I am with wildman and strength coach Zach Even-Esh.
I also got to hang out with Jim Hart, one of my marketing clients and Men's Journal Top 100 Trainers in America.  Look for him to be one of the next and biggest online fitness success stories.
And of course all the way from the west coast, we have my buddy Chris McCombs and his lovely and extremely cool wife Sarah.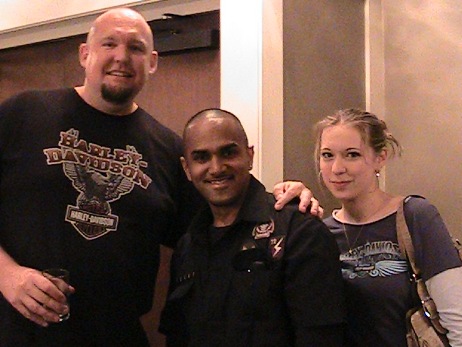 The first day was excellent and more informational in tone with presenters Mike Boyle, Greg Justice, Craig Ballantyne, and Holly Rigsby (whose presentation was excellent).   I had lunch with Antonio Valdares (one of NYC's top trainers) and Jim Hart, where we talked about some of the major stuff they're both doing online.
I laid low at night – really trying to avoid a replay of the the first night at the Fitness Business Summit!  And I've also been suffering from a little sleep deprivation from working on the new Super-Trainer site, so I crashed for a solid 10 hours and woke up today like a new man.
Today was without a doubt the most fun – it was highly motivational, entertaining, and informative all at the same time.  First up was, IYCA president, Brian Grasso who I met for the first time at this event and who is a really cool guy who you need to meet and talk to if you get a chance.
My favorite presentation of the weekend has to go to Zach, whose rags to riches fitness success story will have you both laughing and crying.  Zach is, without a doubt, one of the most outrageous personalities we have in the fitness industry today.
And it was also great to see Chris McCombs get up there and kill it.  The things he's been able to achieve with his blog are incredible – he spilled some valuable keys to his success at the event.
Like I said, the best part for me was all of the people I met over the weekend including readers of the blog and tons of other industry people, like Mickey, Travis, the incomparable Adam Toohey, Nii Wilson, Joel Marion, A.J. Roberts, and just a ton more people that I've gotten to know online.
Above all, congrats to Pat, Nick, and Jim for doing such an amazing job with the event  – no one should underestimate what goes into throwing one of these things, and they did an unbelievable job.
And don't underestimate the impact that attending one of these events can have on you and your career.  I hope I've made that clear with all of the coverage I've been giving at these events on the blog this month, so I recommend you don't miss the next big fitness marketing event (hey Sarah that means you).
There's one more day of presenters at the event tomorrow, but I may cut out early because I have some meetings with a few of the people over here.  And after three big events this month, I'm a little wiped out and ready to actually get to some real work!
And after seeing so many of my buddies hold down some unbelievable events this past month, who knows, I may even look into organizing one of these events down the line – who's down?!?!?! Haha – let me know!