It's been almost a week that I've been back from the Fitness Business Summit, the event Bedros Keuilian threw out in Anaheim last weekend.  Over three hundred of the industry's finest showed up, and with the crowd and presenters included, the whole thing was bananas.
And from my end, things were even more crazy – the event itself was just a backdrop for everything that went on.  For the first time I met a lot of industry heavy-hitters who I've gotten to know but have never met in the flesh.  And I also got to connect with a lot of the blog readers and people I've made friends with online.  The social part of the weekend was even bigger than anything I learned.
With all the hanging with friends, eating, and  partying, you almost forget there was a conference going on in the background!
Here's a full recount of the weekend:
Thursday, April 30
Thursday was real cool.  Me and Doug Groce, who you probably know from the blog and is someone really on the rise in the inside of the fitness marketing world, met up at the airport because our flights were arriving at the same time.  Me and Doug have talked on the phone a bunch of times, and he was the driving force behind the entire TOP-LEVEL TRAINER PROGRAM launch recently.  He helped me turn it into a kick ass product and sell the whole thing out (although we've later had some fulfillment problems which weren't his fault).  It was real cool to meet him for the first time.  We both picked up our rental, a brand new silver big-body Chrysler 300 C, and headed over to the hotel.
There, we met up with Michael Duivis, who's one of the all-star alum of Super-Trainer.  We then all headed over to a nice Mexican spot Michael recommended, and just hung out and talked for a couple hours.  Even though we've all known each other for months, we were all really meeting for the first time so we had a lot of catching up to do.
When I checked into the hotel (which turned out to be pretty good), I passed out for about five hours.  I think it was the  long flight getting to me, along with all of the Mexican food.  When I got up it was pretty late, but I was full of energy and didn't want to stay in.  Me and Doug decided to go get something to eat and look for some trouble – we hit Newport Beach.
There wasn't anything that looked too appealing, until we saw this big renovated theater that had those big "bat-signal" type lights in the front pointing toward the sky, a long line out front, and with what looked like a big party going on in the back.  We pulled into the parking lot in the back and decided to check it out.
It was some kind of exclusive party for the launch of a magazine or something – there was paparazzi everywhere – open bar and free food, the works.  Security was not very tight, because we managed to sneak in through the back.  We checked it out for a while, then headed out after a couple of hours.  We left at the wrong time, because on our way pulling out of the parking lot, we saw Brett Ratner (the director of the Rush Hour and X-Men movies) come in with what looked like a bus full of models.  He kind of stared me down with one of those "don't you wish you were me looks".  Ha, and I've kind of got to admit I did wish I was him at that moment.
We got back to the hotel, and by that time my other buddy, pro bodybuilder and major studio owner CC Mathews, showed up.  By this time it was way into the AM, so we all headed over to Denny's to grab some grub, and just catch up on everything, and talk about what we were expecting from the event the next day.
Friday, May 1st
The next day was the first full day at the conference and it was crazy. I met for the first time my good cyber-buddies Steve Hochman, Bedros Keuilian, Chris McCombs, and Sam Bakhtiar – just like with Doug and Michael from the day before, it's a real funny feeling meeting someone in person for the first time who you've gotten to know really well online and on the phone – it must be what using match.com is like!
Bedros killed it on stage – so did Chris – these guys must have dropped the F-Bomb at least 50 times that first day, but they didn't care; Bedros put on the whole conference in his flip-flops with his hair messed up.  Even though everyone was here to learn, specifically about making money which is very serious business, the whole conference had a party atmosphere.  The crowd in general you could tell were all-stars, all here really hungry to do some damage.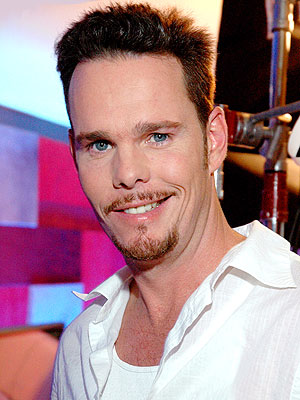 I also met many of the TOP-LEVEL TRAINER PROGRAM owners – one of them John Thompson, came to lunch with me, CC, Doug, Michael.  We all piled into the 300 and went to some Mediterranean place in LA that Michael, who lives in Cali, recommended.  I've got to admit, cruising around LA felt a lot like something out of Entourage.  The only problem is since I was the oldest, that makes me Johnny Drama!
For the first night, Bedros arranged a big thing at Dave and Busters – most of the other attendees must have been incognito because I didn't really see them around.  I did see Bedros though, who was trashed. But it was nothing compared to what was going to happen to me later that night …
Michael recommended we check out Sutra, a club over in Newport Beach, the general area where me and Doug were the night before.  I remembered driving past the place – it looked real good.  Me, CC, and Doug piled into the car and headed out.
Since there was just us three guys and we didn't feel like waiting in line, we got a table and some bottles.  I've got to admit, the service at this place was some of the best I've ever had at any club I've been to, and I've been to some of the best in NYC. Whenever we wanted a drink it was poured to us by our gorgeous waitress, who we all agreed we'd marry, if only for a day.
I'm not really a drinker – the reason is I'm pretty sure I have a drinking problem.  I was right, because once I got started I didn't stop.  I was downing Grey-Goose and Redbull"s all night, and at a certain point I blacked out, because from what I heard from the guys I was doing some really stupid stuff I have no recollection of. Lucky for me the club closed 2 AM or who knows how trashed I would have got.  This is much different than New York, where the party doesn't really get started til 2.
Although I don't remember much, what I do remember is Doug macking with what was probably the hottest chick in the club – Doug got his initiation into the silicone and plastic world of California by fire after she grabbed him and hit the floor – they were gone for a long time, so I don't even want to know what happened!
Saturday, May 2
So the next day I was super-hung over and stumbled into the conference room a couple of hours late.  I had breakfast with Zach Hunt and Chris that morning – I got smarter just from talking to those dudes, although I also curse more now because of Chris.
The conference that day was stellar as well – Steve Hochman went up, and his presentation was fire and his videos were hilarious.  He also revealed Project X for the second time anywhere – the first time was on THE TOP-LEVEL TRAINER PROGRAM.  There was also some other very good speakers who I can't really remember since I was so hung-over.
Saturday also featured Mr. X –  I think that cat's out of the bag so we can say who it is – Vince Del Monte, who's made close to a mil teaching skinny guys how to bulk up through his e-books and DVDs.  He broke down the entire blueprint to getting affiliates to do all the selling for you.
The content on Saturday was excellent – it had to have been my favorite day.  At night I was totally wiped out and fell asleep early.
Sunday, May 3
Sunday had some good speakers, like PFP editor Shelby Murphy, and Greg Justice.  What I was waiting for was when Vince went back on stage at the end of the day – him and Bedros hit the stage for the recording of an info product on how to make info products!  I've gotten interested in this, as you can tell from the many recent people we've had on the blog, guys like Craig Ballantyne, Joel Marion, and Ryan Lee.
Speaking of Ryan, next week I'm going to be at his Ozworth event – I recommend everyone come on down to Connecticut to check it out.
But back to Bedros, tremendous props to him for throwing what was a crazy event.  And thanks to everyone that told me they loved my blog, and all of the other people there that I got to talk to and hang out with.
To anyone on the fence, you've got to check out Bedros' events – he's got another one coming up in October which I'll be at, and hope to see you there.  And I'll probably be goofing off and getting trashed at that one, but what else is new!