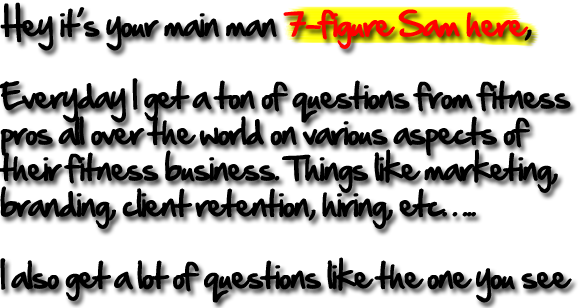 ***************************************************************************************************
To: 7FigureSam
From: Name Withheld for privacy
Message: Real quick…
First, thanks for bringing us the incredible information on your blog.
I look forward to working with you in the near future to help grow my
studio and boot camp.
Second, I made a big mistake this past year. I joined "The Boot Camp Franchise"  , don't
judge everyone makes mistakes;) Anyway it is an absolute joke. It's
the same info on their blog but for $500/m. Ouch ouch…It hurts being
sold on a bogus product more than anything else.
Any suggestions, I read on the blog that people left prior to their
contract expiration…
Thanks again,
Name Witheld
****************************************************************************************************
Hey name withheld,
First of all THANK YOU for reading my blog and appreciate the kind words.
I can't in good conscious tell you to cancel something if you already made a
Commitment.
How would you feel if a client signs up for a year and then one month into it
Wants to cancel their commitment.
Having said that if you feel like they promised you a unicorn and delivered a Donkey (as their CEO would say) then at least give them a chance to fix it. If for some reason they don't fix the issues and keep delivering a donkey then I would talk to these people on this blog post and see how they managed to get out.
I stress that you need to first bring your dissatisfaction to their attention and give them a chance to deliver the "unicorn".
No business is PERFECT but what separates an average business from a GREAT business is their willingness to make Things right.
I hope that helps,
Sam
https://super-trainer.com/i-thought-this-was-america/
https://super-trainer.com/fitness-marketing-law-20-the-law-of-hype/
https://super-trainer.com/get-f-real/