Before I begin to talk about my To Do List, I wanted to share an email from a coaching client that totally made my day.
Hey Sam, I just wanted to send you a note letting you know that you are by far the best coach that I have had so far. You really know how to run a biz and you are a perfect mentor and leader for those looking to reach their goals and dreams. I aspire to have a business and influence like you in the future. Thanks,
Ian
OK, let's get down to buzzzzinneez shall we….
After a whole day in our "WAR" room, my partner and I came up with KILLER FITNESS MARKETING and implemetation strategies for 2012. Many people ask me "aren't you afraid to share your strategies with your competition?"  My answer to that is heeeeeellllll to the nooooooooo.
Even though that I know these busters are watching and imitating my every move, knowing is one thing and doing and it is another ;)
So without further ado, here is my 2012 to do list for just ONE of my businesses ;) www.TheCampBootCamp.com which is a Chino Hills Boot Camp
1) SEO: FitConcepts.com is already in the first position not only in Chino Hills/Chino but in 10 cities for the terms Personal Trainer, Boot Camp, Weight Loss, Personal Training, Etc…….
2) Start optimizing www.AlejandraFont.Com
3) Need more cool motivational quotes on the wall.
4) Grocery store tour 1st Tuesday of every month at 6pm
5) Nutrition seminar last Wednesday of every month at 6pm
6) Webinar 3rd Tuesday of every month at 12pm noon. Start promoting it on the 2nd Monday of every month.
7) 5,000 post cards distributed on cars strategically on the 1st and 3rd Tuesday of every month.
So 2,500 post cards double sided promoting Boot Camp and our www.MetabolicRxTraining.com program.
8) Monthly ongoing body transformation contest where participants can weigh in at the first class
of the month and again at the last class of every month. Each person will get $10 for each pound they lose.

Use the tagline "We Pay You To Lose Weight"
9) Last Saturday of every month we're having Burpee, Push Up, Planks, etc…… contest. The winner gets movie and dinner tickets.
10) Look into www.OfficeAutopilot.com to automate emails, landing pages, shopping cart, processing, post card campaigns. Thanks you Jeff Sherman for recommending this.
11) Each trainer is responsible for posting one picture during boot camp and tagging it.
12) Each trainer is responsible for one video per week. The video needs to be approximately one minute long. 12 trainers = 12 videos. All get uploaded on Saturday with correct description and title.
13) Post Cards: Mailed out 3x/year

Send current clients a monthly postcard (Appreciation and referral incentive).
Can use Office Autopilot or www.SendOutCards.com
14) Monthly automated text to current clients for appreciation and referrals.
Done through www.ContactFormula.com <===== Try it for a $1
15) Revise trainer's checklist. Checklist must be turned in after their shift.
Checklist: Call everyone by their first name at least once, make sure to touch everyone at least once, after each class announce upcoming events, announce bring a friend Friday, Referral Contest, etc…
15) Have a referral contest every other month and give away an iPad. A minimum of 5 referrals is required to enter.
16) Revise our business plan and entertain investors. Think Outside of the Box.
17) Survey monkey going out to all current clients at the end of each month. They get to vote on who is their favorite trainer. The trainer with the highest score gets $100 cash and a designated parking spot.
18) Look into video conferencing. www.ilinc.com
19) Boss Lady to set up a monthly meeting with our accountant, Mr. Kohani.
22) Boss is going to look for ALL trade shows in the area.
23) Include upsell like Prograde and Meal Movement in our auto responder.
Sign up for
Prograde Here ====> Sign Up For Prograde
Meal Movement Here ====> Sign Up For Meal Movement

24) Hired a full time assistant, Stacy, to make calls 8 hours per day Monday-Friday. 4 hours for Chicago locations and 4 hour for California locations. So far this month she has made over $4,000.00 in sales just calling and following up. EVERYONE NEEDS A STACY
25) Teach Stacy EXACTLY what to say and offer our past clients and prospects. Luis is going to devise a sales script and teach her closing techniques.
26) Boss lady and I need to make a new welcome video for new clients.
28) Mandatory trainer meeting first Thursday of every month at 12pm noon.
Provide a lunch and learn.
29) "Bring a friend Friday" signs strategically placed throughout the facility. Need to "condition" for referrals.
30) Ask for referrals at the point of Sale. Use Christian Aguirre text method.
31) Revise the boot camp price structure to resemble www.Fitconcepts.com
32) Once we close them on the low monthly payment we 'll ask


Then ask them to pay in full.
33) Luis is going to make a blue print of everything discussed. Everything will be color coordinated according to who does what.
34) Looking for a device to record phone calls. Want to start recording Stacy and make sure she is using our script when she calls. This helps monitor interaction and also helps us "Fine Tune" the sales process.
36) Christmas Special Promotion: Buy a one month gift certificate for your friends and receive your next month for free. Essentially it's free for them and we get a chance to gain a new client. BRILLIANT.
37) Religiously track the following numbers:
37) Boss lady to call ALL current clients systematically once a month to ask how they're doing and ask for referrals. For example on the
first of the month call all clients that start with the letter A.
I think it's essential that this comes from the owner and not the trainer or someone else.
This is to create deeper bond with clients.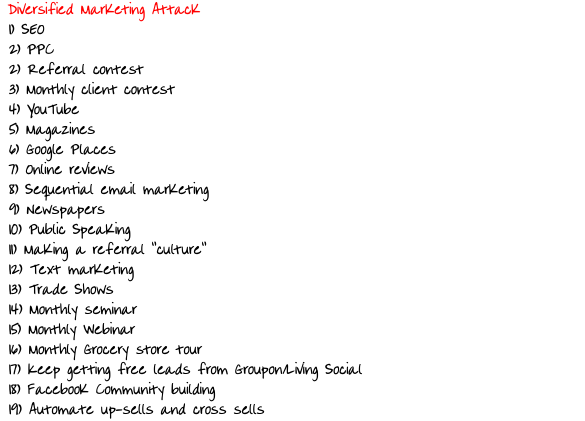 If you enjoyed this post then Be sure to also checkout FITNESS MARKETING 101