Hey Super Trainers!!!!
It's your main man 7-figure Sam here.
I wish you, your family and your business nothing but the best life has to offer.
If you remember, March 2012 was one of the hardest months of my life. I launched not one, but FOUR kick A$$ products. I'm not going to bother listing them, so if you're interested you can check the most comprehensive list of resources right HERE.
April was CRAZY in a whole different way…
First Week of April: Took some much needed R&R with the family at our vacation home in Vegas to recharge the batteries. After a week with my two favorite women (wife and daughter just to be clear ;))     it was time to head down to New York City's Time Square for the Brendon Burchard's 10X event.
Brendon's event was by far the most expensive 3 day seminar that I have ever attended.
Tickets were $10K.
BUT it was worth every penny. Brendon OVER-DELIVERED big time. It goes to show you that you can over-promise and over-deliver at the same time.
The biggest takeaway from Brendon's event was his blueprint for competitive strategy. It's simply brilliant. I would love to share it with you but after reading over the material it clearly stated that it's not a good idea to share and distribute the material ;(
After Brendon's event my good friend Damian "The Irish Celtic" Maher came to visit and stay at Mi Casa for a few days before our 7-figure retreat/Mastermind in Las Vegas.
Check Out "The Irish Celtic" Trying To Keep Up With Me At 4am <=======
After spending a few days with Damian and getting to know him on a more personal level I found out that he has a WEALTH of knowledge. Damian really knows his craft and it's no wonder he is so successful. I was very impressed to find out that Damian mentors/mentored with some of the best coaches in the world. I can tell you that I am honored to be one of them.

First, let me explain why I decided to start a "retreat."
The reason for starting a "retreat" is very simple: Why not have fun, CONNECT and learn at the same time?
After my weekend with Sam Event and The KBL Mastermind (which were both 12 hours per day, back to back, no bathroom break events) it was time to add some fun to the mix ;)
After all, I've made much more/better connections and much more money outside of a conference room than I have made inside.
Having said that, there is a time and a place for everything. There has to be a balance ;)
So, for the retreat, out with the hotel and conference room…
7am – Workout
11am – 3pm 30 Mile ATV ride in the Desert
3 – 5pm Come back, get ready for a surprise
6 – 10pm Dinner at I LOVE SUSHI (best sushi in Vegas) and surprise guest, the elite business and marketing coach Kevin Nations.
Since Gold's gym was literally 5 minutes away so I got everyone a pass. Of course I had my trainer Manny Torres on hand to kick my butt. Again, I am a firm believer in having coaches for every area of your life. 7am everyday was our usual workout time. It was all fun until I saw David Peterson walking around with short shorts and a string tank top, flexing between each set.
After this, we all headed to the state line in the middle of the Mohave Desert for our scheduled 30 mile ATV ride. This definitely didn't go as planned and to be honest the whole time riding through the trails I was telling myself "What if something happens to my friends" and "Maybe this wasn't such a good idea." My intuitions were right….
Damian "The Irish Celtic" drove his ATV off of a CLIFF and "Pretty Boy" David Peterson flipped his ATV. Both survived with some minor scratches…
Glad we skipped the shooting range.
7am Workout
10am – 6pm Masterminding by the pool
6pm Relaxing and socializing
A quick note: A few years back I hung out a few times with one of the greatest fighters in the history of boxing – Floyd Mayweather Junior. His cousin Dejuan and I have become good friends over the years, and I really wanted to SHOCK the crew by taking them to see and meet Floyd (easier said than done with a crew of 10).
My boy Dejuan came through and I was able to hook it up, and I totally AMAZED the crew by taking them to a private sparring session and workout with the champ. THEY WERE TOTALLY SURPRISED.
As a matter of fact we ended up being on HBO's third episode of 24/7 Mayweather vs Cotto.
The 7 Figure Crew can be seen at 19:50, 20:01 and 20:19

7am Workout
11am – 3pm Racing exotic cars on the race track
8 – 9pm Helicopter ride to see the Vegas skyline
10pm – ???? VIP night out at the XS night club
Racing Exotic Cars:  This was extremely fun. We had to choose between Ferraris, Lambos, Porsches, AMGs. It was truly a guy's dream. Since I have owned a Ferrari I wanted to try something different. I chose the Lamborghini Murcialago. BIG MISTAKE.
The Lamborghini didn't handle, brake or shift anywhere near as well as the Ferrari. Ferrari in my opinion is by far superior to Lamborghini. Hey, I guess it's all about getting out of your comfort zone and trying something new ;(
Lamborghini SUCKS….
I also signed up to have the world drifting champion take me around the track drifting through the corners at 120MPH. This was AMAZING. It goes to show you that practice makes perfect. Just watch the video below and see for yourself. The boy has some skills….
Helicopter and Vegas Skyline: All I have to say is wow. Watch the video below. New York and Chicago you're next :)
Knowing what I know, I kept the boys in check until Saturday night. After all, this wasn't just a have-fun retreat. We were there to both Mastermind AND have fun. I told the boys when they got to the mansion "you can't out party Vegas. Millions have tried and millions have failed." That's why I reserved a table at XS (the world's #1 night club) for Saturday night ONLY.
My VIP host Al hooked us up and got us the best table in the house (below the DJ). If you're ever in Vegas and need to make VIP reservations get a hold of my boy Al.  Be sure to take good care of him and let him know I sent you ;)
Al is the VIP director of Access Sin City and can be reached at (805)241-0480. His email is alnoor.lalji@accesssincity.com
April 26-29 Paul Reddick's GFGI event
I was so honored when my good friend Paul Reddick asked me to speak at his GFGI (Go F****** Get It) event. If you know ANYTHING about Paul you know that he is a true no-nonsense, no-BS type of guy from Jersey. He is the type of friend that you can always count on, each and every time.
I have to tell you that Paul's event was life changing. He has created this fraternity and brotherhood among some of the most successful fitness professionals out there. Never in my life have I been to an event like this. No egos, just real fitness professionals genuinely caring about each other and sharing GREAT information.
This event literally SOLD OUT in just a few hours. If you missed it this year and Paul decides to have another one next year then you definitely need to go.
Even though I wasn't born in America, I was awarded the "Captain America Award" for being the most American and living the American Dream. I always said this: "If you can't make it here in America then you just aren't going to make it." This is the land of opportunity, and with opportunity comes responsibility. So, get off your A$$, know that you live in the greatest country in the world and go out there and make S*** happen. NO EXCUSES!
OK, I could ramble on about that forever, so I'll stop there.
***********************************************
My favorite quote of the month: "Adversity weakens the weak and strengthens the strong." – Unknown
My personal life….
1) Wifey: I have the most understanding wife in the world. She is just as beautiful on the inside as she is on the outside.
Lesson To Be Learned: One of these days she is going to realize that I lied and I am not really 5'7?. I need to think of something fast.
2) Health: I have been keeping my diet clean and working out 6 days a week. I have never weighed 170lb. This is the lightest that I have been for years. I have more energy than ever before. I don't drink coffee or energy drinks. I am currently taking Super Pump Max, Xtend amino acids and Animal Pack multivitamin.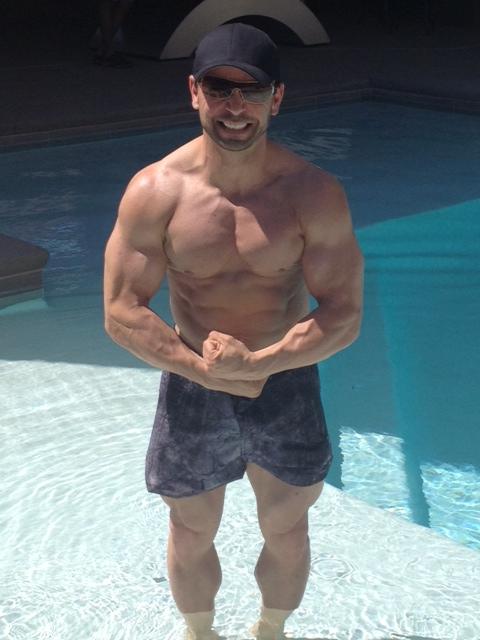 Lesson To Be Learned: There is one thing that 99 percent of "failures" and "successful" folks have in common – they all hate doing the same things. The difference is that successful people do them anyway. Change is hard. That's why people don't transform their bad habits, and why so many end up unhappy and unhealthy.
3) Princess: The love affair continues with my pride and joy. I am a little concerned about her build. She is not even 3 years old and I can already see she is going to have a body on her (thanks to her mom's genetics). I need to either keep working out or start going to the shooting range. Hmmm, maybe both ;)
Lesson To Be Learned: A son is a son till he gets a wife; a daughter is a daughter for the rest of her life ;)

The Compound Effect by Darren Hardy: This book gets my highest recommendation. Here is an excerpt right from the book. "Some of our best intentions fail because we don't have a system of execution. When it comes down to it, your new attitudes and behaviors must be incorporated into your monthly, weekly, and daily routines to affect any real, positive change. A routine is something you do every day without fail, so that eventually, like brushing your teeth or putting on your seatbelt, you do it without conscious thought."
The Art of Non-Conformity by Chris Guilleabeau Also gets my highest recommendation. Here is an excerpt right from the book.
"When we really get serious about our insecurities, we usually find that three specifics emerge: The fear of failure, the fear of success, and the fear of change. The greatest of these is the fear of change itself. Whenever we take a big leap, we know that no matter what happens, our life will probably be different. To many of us, taking that leap is SCARY."
Start With Why by Simon Sinek: This is a MUST read book for every fitness pro. In a nutshell, Simon talks about consistently putting out messages and actions that come from your core beliefs, and then people with those same beliefs will find you. Forget the market testing to see if people will respond to your core beliefs. That's not authentic. More than anything what people want is to trust you, and they will trust you if you act from your core beliefs and do so consistently. People – potential clients, customers, readers of your books, buyers of your art – will recognize their commonality with you accordingly.

Rescue Time: Thanks to my friend Aj Mirhzad for introducing me to this AMAZING productivity tool. I have never been so productive and efficient in my life. This is a MUST for anyone who is on the computer. It will give you a reality check on how productive you really are.
iPro Lens: Enhances your iPhone's videos. You can capture more angles with your videos. So, if you do videos as you should and have an iPhone then I highly recommend this.
May 17 – 19 Pat Rigsby's event in Connecticut
May 24 – June 2 Las Vegas with family
June 6 – One Day Mastermind with my Super Trainer Blueprint customers in Chino Hills
June 11 – 14 War Room Mastermind With Ryan Deiss
June 15 – 16 KBL Mastermind in beautiful San Diego
June 20 – 24 High Performance Academy San Jose
April 18 – 23 Las Vegas 7-figure invite-only retreat. This is a five star retreat/Mastermind event that myself, Luka Hocevar and Steve Krebs are hosting at a mansion in Las Vegas (at least that's what I told wifey ;)
April 26 – 29 New Jersey I'm honored to be speaking at Paul Reddick's SOLD OUT event. My goal is to bring the house down. Jersey is not ready for this ;) This is going to be sooo much fun!
Your boy Sam,
PS – I am going to share a very IMPORTANT video with you tomorrow. It's titled "Rent Negotiation" [Video]. Don't miss it!