Ok, I hope you know I was bullshitting you there. I don't use (unanswered) hype in my business like some other people.
But the truth of the matter is many fitness business owners really have neglected this marketing tactic. And it is especially something I am seeing in much of the new generation.
So what is this "secret" strategy?!
It's called "being the f@*#ing BEST" at what you do.
Are you constantly working on your craft? Are you reading a book every 2 weeks (at least!)? Are you watching DVD's and are part of the best online membership sites? How many seminars did you attend this year? And how many presenters/coaches did you bring into your gym to make your staff better?
Why did you all of a sudden stop becoming better at your craft?
I feel like we owe not only ourselves but even more so our clients, to continuously pursue a mastery of our craft.
When you are amazing at what you do and you deliver the result the client is looking for faster and better than anyone else, coupled with an amazing experience, then people will want to talk about you all the time!
When was the last time you got an unbelievable experience where your expectations were exceeded, the service was professional and you really felt the business had your best interest at heart?
How many people did you tell about that service afterwards and how did you talk about them?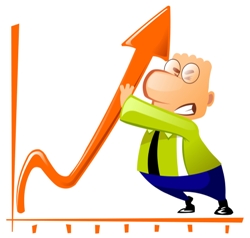 The marketing strategy that I'm talking about is being so f@*#ing good (your goal should be at a minimum to be great and the best in you area) at what you do, that people can't help but to talk about you, whenever they possibly can.
I would much rather build a business from a foundation of great services first, than to have OK services and market the shit out of them with claims of being great and the best (how much of that do we see lately? Everyone seems to be the best!)
We all listen to how we should systemize our businesses and create checklists for tasks. I rarely if ever see checklists for educations and mastering your craft!
What I want you to do RIGHT NOW is to take out a pen and write down what you will do every week and every month to become better at your craft. This needs to start with you personally and then also apply the same principles to your team.
Remember, I'm not only talking just about training (although many fitness professionals really need to step their game up), but rather anything that will help your clients be more successful as well as deliver a better experience to them. This could be training, nutrition, lifestyle coaching, psychology, customer service, WOW experience building, etc.
I personally have a checklist of the minimum I will study every month:
–          Read at least one personal development book every month
–          Read at least one training/nutrition book every month
–          Read at least one business development book every month
–          Watch a training DVD every week
–          Go to a seminar a minimum of every 3 months
–          Attend mastermind meeting every 3-4 months
–          Bring a presenter to my gym every 3 months
–          Another 4 hours a week dedicated to education (membership sites, respected blogs, on the phone with mentors and colleagues)
For my team I have the following checklist:
–          Read at least one training book every month and write a 300-500 word essay on what you learned from it
–          Watch at least one training DVD every month and write a 300-500 word essay on what they learned
–          Attend at least 3 seminars in a year (whether in house or out of the gym)
–          Attend all in staff training  (I bring in different specialists to teach my team, from Kettlebells, Olympic Lifting, Sport Specific, etc.)
–          Write a blog post a week for the boot camp blog (this means they have to do research and in essence study the topic)
On top of that I always keep on top of my mind that I want my team to be the best in the area, the state, even the country, and so I create opportunities for that education and breed it. This starts with myself.
I don't pretend that I'm the best in the world at what I do but I can definitely say that I'm the best in my area AND I can also say that I'm constantly working on becoming the best period (this is a journey and not a end goal)! I'm not doing this "kinda", I'm doing this relentlessly!
Be the best and see how that influences your referrals and how people start talking about you.
Master the long lost forgotten art of being the f@*#ing best!
Luka Hocevar
www.HocevarPerformance.com
www.RentonResultsBootCamp.co