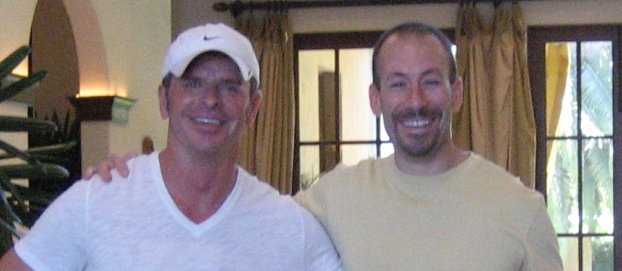 I love biographies! Something about reading about the successes of other people and how they got there makes you realize what you're capable of.  What I especially love is to learn about their humble beginning and adversities, most of which make anything you think is stopping you look really small in comparison.
On that note I bring you the first a special five part series I'm calling THE TOP FIVE TRAINERS TURNED ENTREPRENEURS OF ALL TIME.
Here you're going to be able to follow the stories of five of the biggest names in fitness marketing – and I mean some big names are going to be on this list, so be ready to have your idea of what's possible get blown open.
In no particular order, first off we have Bill Phillips, a man who needs no introduction.  In case you're not familiar with Bill's whole story, here's a brief history of his rise to fame and fortune.
————————————————————————
Bill 'William' Phillips is one the top five personal trainers turned fitness entrepreneurs in the history of the personal training and fitness industry. He is also the author of one the most inspirational fitness books – 'Body for Life' and former owner and CEO of EAS, a well known nutritional supplements company.
Born in 1964, Bill started his bodybuilding career in 1982. A year later he decided to make the move to the Mecca of bodybuilding – Gold's Gym Venice beach. After struggling for nearly three years in bodybuilding, Bill moved back to his home town of Colorado and decided to take the plunge into the world of fitness publishing and entrepreneurship.
And that's how Bill Phillips the fitness entrepreneur was born. His first and one the most popular fitness newsletters of its time was the 'The Anabolic Reference Update', which was incidentally printed out of his mother's garage and funded with $180 which he and his brother, Shawn made from mowing lawns in the neighborhood. The newsletter taught bodybuilders how to effectively use anabolic steroids.
Following the success of his first fitness newsletter, Bill moved out of his mother's place in 1992. His newsletter was later rebranded into the largely successful Muscle Media 2000 (popularly referred to as MM2K). MM2K provided honest and frank opinions and discussions on the underground aspects of bodybuilding and the use of steroids. It also contained columns by accomplished bodybuilders like Dan Duchaine (The Steroid Guru) and TC Luoma.
Bill can be credited with the title of 'Father of the Fitness Supplements Industry' title. Using the reach of MM2K amongst the bodybuilding community, he single handedly promoted MET-Rx to becoming one the best selling supplements of all time. However, it was later revealed that Bill in fact had a partnership agreement with the creator of MET-Rx, Dr. Scott Connelly and all those endorsements were just really clever marketing tactics. However, this highly successful partnership did not last very long.
Bill and Connelly did not see eye-to-eye on certain important points related to the distribution of MET-Rx. This resulted in them parting ways. Separating from Connelly, rather that being a set back for Bill, gave him a new lease of fitness millions. In 1996, Bill acquired EAS – a nutritional supplements company. Using MM2K, Bill made EAS, one of the most successful nutritional supplements company in the late 1990s. Myoplex (a MET-Rx copy) was considered as the top selling protein supplement for many years. By this time, Bill had become a multi-millionaire and a celebrity trainer.
In 1999, Bill struck his pot of gold by selling his majority stake in EAS for $160 million to North Castle Partners. He continued on the Board, with a focus on writing and promoting his books and EAS through his publications business. In 2004, he sold his remaining stake in EAS and is no longer associated with them.
In 2005, Bill finally took the plunge and married Amy Molen, an anorexia survivor and a success story from his 'Body for Life' documentary.
Now out of the nutritional supplements business, Bill is busy promoting his books such as Eating for Life: Your Guide to Great Health, Fat Loss and Increased Energy and "Transformation: Now and for LIFE". He is also actively promoting his "Great American Transformation Experience (GATE) with a goal to completely transform America's fitness from the world's worst to the world's best in 10 years.
————————————————————————
In case you were wondering, that picture of Bill at the top is with marketing guru Joe Polish.  So it's obvious Bill was smart enough to get help with his marketing, a mistake a lot of trainers make and instead just try to do everything on their own.
That's the main mistake I've found the trainers I've come in contact with through this blog are guilty of – either doing too much on their own, or not knowing where to get the right help.  That's what the new Super-Trainer is all about – being THE SOLUTION.
So be sure to check out the GRAPHICS, SERVICES, and FORUMS section of the site.  You'll find just the support you're looking for to get your own success story in full swing.

And let me know what you thought of this profile of Bill. Oh, and be on the look-out for the next four parts of this series – you're not going to want to miss a single one!