[jbox color="blue" vgradient="#fdfeff|#bae3ff" border="5″ radius="5″ shadow="5″]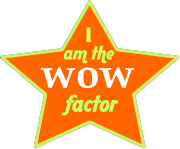 Wow factor is the 3rd Pillar of fitness business success.
In previous emails I discussed that Marketing and Sales were the first two factors.
But what happens after that?
Every great company from Apple to Trader Joe's focuses on WOWing their customers.
How do you really define "Wow"?
I've always been a fan of objective measures as much as possible.
So, let's get right to it.
If you charge $1000 for a product and you deliver $1000 worth of value, then you are delivering a great deal of value in absolute terms, but not very much at all in relative terms.
What I mean by this is $1000 for $1000 of value will likely be a clean economic exchange, but leave you very few customers in awe. They are not going to tell their friends about you. You will be known for having "fair" and "reasonable" prices.
But if you want to build a booming business, you need to wow. And how do you do that?
You deliver a great deal of value in RELATIVE terms. As in, if you charge $1000, then you should deliver $10,000 worth of value. This is in parallel with the 10X principle that is beginning to increase in popularity.
Especially in the service industry, you really need to offer a great deal of relative value.
There are two ways to do this. Keep your product the same, and lower the price (not necessarily ideal) OR keep your price the same and increase the amount of VALUE you are delivering.
In what ways can you increase value?
Well, there are a lot of different ways of thinking about it, but sometimes, it even comes down to spelling it out for your customers.
What do you do? I get people into shape.
That's not going to be worth very much. So how come some trainers can charge 3,4,5x the amount per hour and are completely booked. And some trainers are charging only $40/hr and can hardly find anyone. They're selling the same thing, aren't they?
No. They're not.
The thousands of trainers charging $40-$60/hr are in the commodity business. They are selling a service that their clients know exactly what they are buying.
YOU DO NOT WANT TO BE IN THE COMMODITY BUSINESS IF YOU ARE IN THE SERVICE INDUSTRY.
You want to sell VALUE and RESULTS that MATTER TO YOUR CLIENTS.
Well then, if you sell getting into shape, what else are you really selling?
You are selling FINANCIAL BENEFITS – helping them get a raise, sell more products,  get more commissions, be given more responsibility at work, be more likely to be seen as competent, more likely to get hired, etc.
You are selling EMOTIONAL BENEFITS – confident about the way they look, ability to accomplish a hard task, peace of mind that they know how to control the way they look for life, they don't need to wonder if they are doing the right thing – the search is over, no more stress over misinformation.
You are selling PHYSICAL BENEFITS – Internal health (Blood pressure, cholesterol, BF %), better sleep, no getting winded going up stairs, carrying groceries is easier, putting things away in the top shelf isn't a strain, and of course, looking awesome (which is arguably an emotional benefit more than a physical one).
You are selling SPIRITUAL BENEFITS – Patience. Discipline. Commitment. Enduring hardship. Being part of a fitness/healthy living community.
These are just general, and yours will be more specific to your target audience.
But remember. YOU ARE NOT A COMMODITY. You WOW YOUR CUSTOMERS, and as such, you can demand A HIGHER PRICE BECAUSE YOU DELIEVER SO MUCH MORE THAN YOU ARE CHARGING.
So, wow your customers. Make them your biggest walking advertisements and charge a premium price for your service because you ARE NOT JUST ANOTHER PERSONAL TRAINER.
Next time you see a customer, think about what kind of service you would need to deliver in order to justify TEN TIMES your costs, and you will get on the right track to delivering that kind of service, and MAKE SURE THEY KNOW IT.
Your boy Sam,
PS – Stay tuned for the 4th pillar of fitness business success
[jbutton icon="yes" size="medium" link="https://super-trainer.com/fitness-marketing-resources/" newpage="yes"]===> Cool Resources For Your Fitness Business[/jbutton]
[/jbox]