Any fitness business – whether it is an in home business or a large corporate boot camp, entails a lot of work. With a large fitness business, it is quite easy to see that there are a lot of things involved, but even with in home fitness businesses there are various processes, such as:
The planning.
The prospecting.
The execution of the tasks.
The communication.
The payment handling.
The accounting.
The payroll.
If you are planning to be a fitness business entrepreneur, you can see that there are many things for you to do.
Now, with the Internet making the whole world such a closely-woven arena, you can find professionals to handle every kind of task.
They will even plan your entire business venture for you if you have the cash. However, at least initially, you will be on a budget and would like to outsource only things that you really cannot do.
The best idea, then, is to outsource some of the execution aspect of your fitness business. Like:
Fitness content writing
Payment handling
Graphic design
Customer service
Trade show presence
Flyer distribution
Lead boxes (NOT!)
Squeeze page creation
Video editing
SEO
Mascot creation
Banner design
The things that are integral for keeping your business going are things you need to be spending the bulk of your time doing.
Strategic planning
Marketing calendars
Lead generation strategies
Funnel sequencing
Strategic value sequences
Seminar design
Workshop outlines
When your business grows, you will find that you need to outsource many more things. You might need someone for data entry just to maintain the records for your business.
You might need someone just to communicate with your various clients and keep them updated with what's happening.
You might need someone to handle the networking or other routes in which you obtain work.
You might even need a virtual manager to handle all these aspects of your business at once.
It is possible to find outsourcing professionals for all your needs, from telemarketing to the complete management of your business. The main thing is in knowing when to use these professionals.

Here are a few tips on finding professionals to whom you can outsource your work requirements.
The best place to get outsourcing professionals is the online jobsites. The following is a list of 10 of the best of these sites.
GetAFreelancer (http://www.getafreelancer.com/)
ScriptLance (http://www.scriptlance.com/)
EUFreelance (http://www.eufreelance.com/)
eLance (http://www.elance.com/)
Guru (http://www.guru.com/)
RentACoder (http://www.rentacoder.com/)
PeoplePerHour (http://www.peopleperhour.com/)
O Desk (http://www.odesk.com/)
GetACoder (http://www.getacoder.com/)
Fiverr (htpp://www.fiverr.com/)
You will find various job categories here.
When you have a particular work requirement, all you do is post your project in the relevant job category and people who are interested in accomplishing the task for you will make their bids on it.
The concept is quite simple, and because only people who are genuinely looking for work can be found on these sites, you can be sure that you will get your work done.
Since the online job-sites are the best places for you to get professionals, let's look at them in a little more detail…
Here are some of the advantages of getting professionals online: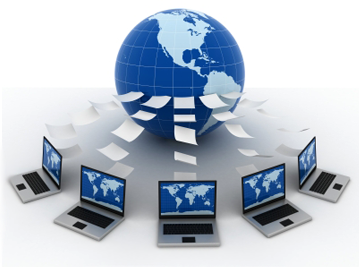 People you will find on the job-sites have registered here with the express intention of finding work. They want to serve you!
There are various ways in which you can find how good a particular worker is. Every jobsite has a rating and review system (for the employee as well as the employer). This helps you decide. Odesk even has a certification process.
All websites have an escrow system. This takes care of all disputes. Once an escrow is made, the website will arbitrate any problems that arise.
You can make detailed project posts, outlining clearly what you want to be done, what time and budget you can afford. People make bids accordingly, so you can be sure you won't have to bargain or get shorted.
You can ask people to show samples of their past work. This is a great indicator of the quality you will receive.
You can also invite people to bid on your project. I like to search talent and then invite contractors
You post all details of the work as you want it, spell out the timeframe and the budget.
You can offer and post it in the relevant category.
Once your project is live, which is instantaneous, people start bidding.
Then, all you have to do is to look at the bids closely and make your decision on whom to
select for your job.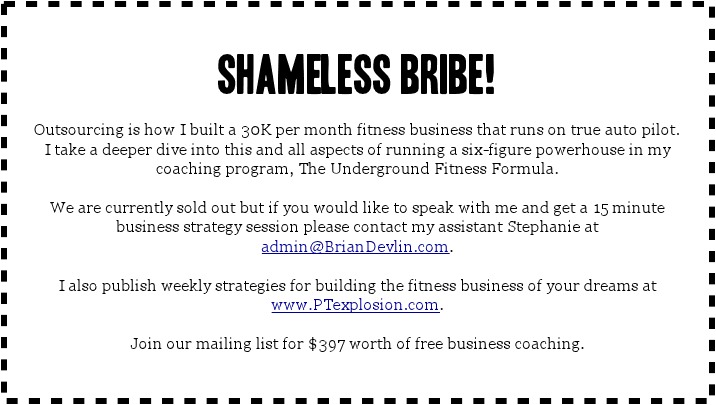 Brian Devlin
The PT Ninja
www.PTExplosion.com
www.FreeBootCampExercises.com