Hey – I've got some good news and bad news – what do you want to hear first?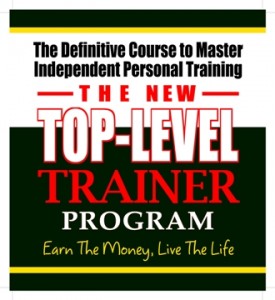 Ok – let's start with the bad news …
You know how I tapped my full list of contacts to assemble the most killer collaboration of TACTICAL information the industry has ever seen for this program?
Well I sent most of these guys a copy of the program as a courtesy, just so they knew what an amazing thing they were a part of …
And you know what?  I've found out they've all been promoting the program to their audiences!
I mean this is just nuts!  I've got a who's who of the all-star industry gurus all pushing this program for me!  You heard how Nate plugged it on Tuesday on his blog right?  Well Craig Ballantyne, Pat Rigsby, Bedros Keuilian, Steve Hochman, Chris McCombs, and bunch of other top people that knew this thing was jumping off have all started telling their audiences about it!
I literally saw a flood of orders today and couldn't figure out what was going on until I realized what had happened –
You realize what this means right?  The TOP-LEVEL TRAINER PROGRAM has turned into the all-time most highly promoted program in industry history! It's pretty wild that something I built to get my audience to top-level status has turned into this record setting event!
So the bad news is …
This thing is in serious danger of selling out – we're not even into the last day (which I'm expecting to be the busiest) and it's really moving.  The last time I checked, we were below the half way point.
So if you were waiting to get a feel for what was happening and make a decision on when to jump in, don't wait too long because you might miss out.  There are only 100 total copies of the program, each one individually numbered so you know that yours is one of a kind.
And it's full of some of the most unadulterated, hard-core, real world info that you can immediately put into action for immediate results.  By results, let's not beat around the bush – we're talking about 100K out of the gate, and stacking more accomplishments quickly on top of that (if it doesn't live up to the hype in any way, just put it back in the box and send it back for a full refund – no worries).
If you've been on the sales page, you'll notice it's kind of vague (most of that page is from the original Top-Level Trainer Manual).  I've been sharing exact details of  content and guests with my private lists – if you've missed those emails, be sure to subscribe to the UNDERGROUND NEWSLETTER  (in the right column of this page) so you can get your updates too.
And if you want any of those messages you missed, just contact support@super-trainer.com and we'll get them over to you.
Ok – enough of that – here's the good news:
I've just added one more high-value bonus to the mix, and this one's killer –
You'll get the entire box set of ALL the Super-Trainer Archive Interviews, on CD, mailed to you with your copy of THE PROGRAM, for free!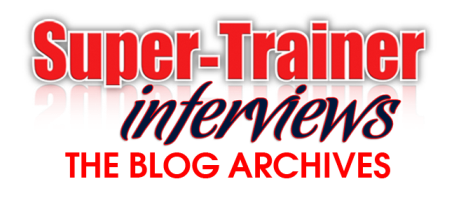 Before you think this is worthless because all of these interviews are right here on the site, realize what you're getting here.  I'm a member of several "Inner Circles" where I pay $50-plus a month, and all they do each month is send me a general discussion with one industry guru.  In this set, you will get the word from every single big name in this business, conducted in typical Super-Trainer fashion, for you to refer to and learn from again and again.
Only one catch – you can only claim this bonus if you order by  3 PM eastern time (12 pacific) on Saturday.  The course goes off the market at midnight, but I'm closing down this bonus early just to remind you not to wait til the last minute to get in on the program.
These are interviews with guys like Mike Boyle, Ryan Lee, Steve Kotter, Gunnar Peterson, Eric Cressey, John Spencer Ellis, Kelli Calabrese, and most special of all, the late Jason Hadeed.
And that's not even half of them!
This set could go for more than $500 by itself – you'll get the complete set mailed to you on separate CDs for FREE along with all of your other bonuses, coaching, and of course, the complete TLT PROGRAM!
This is an incredibly high value bonus that you'll want to have on hand to refer to whenever you need it – it will completely change how you look at your career, permanently (and let me remind you, this is in addition to your course!).
This is for anyone that orders by 3pm EST/12 pacific on Saturday no exceptions (the course goes off the market at midnight).
You quite honestly may never have access to information like this, giving you such a broad, insiders perspective on the training industry, ever again …
So if you were planning to get in on the program, please get in right now – here's the link to go straight to check out:
Just Click Here To Get The Program
(If you're not on my email list and have missed the updates on exactly who and what you'll find as part of this program, just email support@super-trainer.com and we'll send you all the details.)
I think you're starting to see that when you become a part of with this program – you take a step up, and really become a player in this profession.  The biggest change is subconscious – you'll look at what you do, what you want, and your place in the world in a completely different light – you join the TOP-LEVEL!
That's how it got it's name – nothing more to say – here's your link again:
Just Click Here To Get The Program
Ps. If you'd like to see the sales page one more time, just follow this link: TOP-LEVEL TRAINER PROGRAM sales page.