Considering I was a co-founder of the most popular fitness bootcamp coaching program (Bootcamp Blueprint) in the industry and sell two other bootcamp related resources (B3: Bootcamp Business Builder and Bootcamp Automator) this is a question that I take very seriously.
And after a lot of deliberation – I'd tell you the answer is 'Yes'…and 'No.'
I know that sounds like a cop out, but bear with me.
I'm 100% certain that fitness bootcamps as we've known them for the past 5 years are dying a slow death. 5 years ago, when a fitness professional opened up a bootcamp in a market, they were often the first mover and automatically had a decent amount of success. It didn't really matter whether they were any good at what they did, whether they ran a solid business or got their clients results.
Many were just successful due to lack of competition. They were cheaper than 1 on 1 training, there was a bit of a novelty to camps and that was enough to get some traction.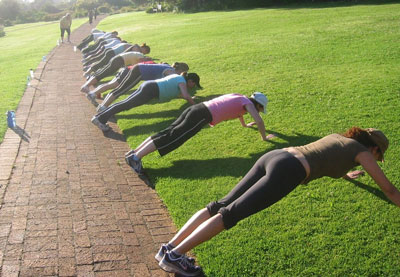 But once people started to recognize the upside to camps, the market started filling up fast. What wasn't to like? The barrier to entry to get started was incredibly low. No need to spend tens of thousands of dollars to open up your own place and lock into a long-term lease when you could open up in a park or pay a few bucks and rent a gymnastics or martial arts studio during their downtime.
Trainers that never would have considered opening up their own business were flocking to open up camps. Before you knew it there were literally thousands of bootcamps flooding a market that had been virtually non-existent just a few years prior. Then, as if that wasn't enough – health clubs started simply repackaging their group fitness classes and calling them bootcamps, so now people could start getting unlimited bootcamps for the cost of a gym membership.
So what happens when any market gets flooded because something that seems to good to be true (remember the mortgage industry?)? There is a crash.
That's what is beginning to happen right now in our industry.
Because it's been so easy for people to get into the bootcamp business, a couple of not so good things have happened:
A LOT of people have jumped on the bootcamp bandwagon that are running very low quality camps. They're running classes that are barely up to the quality of a mediocre health club group ex class and trying to charge $199 a month for it.
Enough people have jumped into the bootcamp market that the prices are being driven down. Health clubs are offering bootcamp classes as part of their general membership and new competitors in the market are simply competing on price to try to generate some clients.
This *is* what's happening. There's no debating it. And it will KILL a lot of the bootcamps that are out there.
But I think that's a good thing.
Because in any market there is always room for quality. And that's your opportunity to not just survive, but to thrive.
If you want to benefit from the shakeout that is now beginning to happen in the bootcamp landscape you need to focus on three things:
If you want to separate yourself from the average camp in the market, retool your camps so that they are essentially group personal training. This means assessments for every client, progressions and regressions for every movement, a focus on the clients goals and not just simply delivering a workout.
Anyone can deliver a workout. You will win by being the coach that personally ensures that they reach their goals.

If a person can go on Groupon on Living Social and buy a month at a local camp a couple days every week for $39, why should they be paying full price to attend yours? The experience. If you treat them as personal clients who are under your care rather than just another number at a workout – you win.
Clients will not leave you if they love the experience you provide. So how do you deliver an extraordinary experience? You take a personal interest in each client's success. You send personal notes and emails. You make personal calls. You overdeliver at every turn. Again, anyone can deliver a workout – very few people deliver an experience.
Most bootcamps are run very haphazardly. No client management system. No marketing plan. No lead conversion process. Few, if any, additional revenue streams. Poor locations.
Every one of these components you put into place strengthen your spot in the market. They make you tougher to compete with and they give you an advantage over everyone else just jumping in. Remember – pretty much anyone can start a bootcamp, but few will ever turn that bootcamp into a 'real' business. Be one of the few.
Like I mentioned earlier in this post, there will be a lot of bootcamps dying. It was bound to happen with the bar to starting a camp set so low.
Consider that to your advantage.
An example of the right way to approach this is what guys like Tyler English has done. Tyler started with a bootcamp in a martial arts studio, but he didn't stop there. He grew from there into his own space. He added staff. He integrated semi-private training. He added Athletic Revolution to serve the youth market. He plugged in nutrition coaching, supplement sales, workshops and a handful of other profit centers. Now he's growing into a brand new 9000 sq. ft. facility.
Now do you need an 9000 sq. ft. facility? Nope. But you should build a business that is tough to compete with. That's actually part of the inspiration for the Fitness Revolution franchise. We were helping our Mastermind Group Members and some Bootcamp Blueprint members build businesses that extended well beyond the typical bootcamp. Strong system. Solid locations. Multiple profit centers.
At the same time we were starting to recognize the direction that general bootcamps were headed. That helped lead us to develop a new business model that would always keep the fitness professionals one step ahead and allow them to have the same type of systems, profit centers and other business components we were seeing the industry leaders employing.
So don't think I'm telling you the sky is falling if you run a fitness bootcamp – or anything like that. I'm simply telling you that while a bootcamp is a great place to start – for lasting business success and for a competitive edge – you need more.
Use the three tips that I shared and use them to build a business that sets itself apart from the rest and allows you to succeed while the rest are falling by the wayside.
To Learn More About Fitness Revolution Franchise Click Here
Pat "Good Ole' Boy" Rigsby
Top Fitness Business Coach, CEO,
Athletic Revolution Franchises
www.FitBusinessInsider.com