In 1986 I began my career as a corporate and community wellness supervisor in Kansas City. That was also the same year I began my personal fitness training business. I was fortunate to have had the opportunity to work with more than 60 of Kansas City's most progressive thinking corporations. I call them progressive because, way back in 1986, these companies were already committed to creating a wellness environment for their employees.
We provided these companies with programs that included healthy eating, stress management, smoking cessation, aerobics classes and, my favorite, the Kansas City Corporate Challenge. Corporate Challenge was an annual event that allowed companies to compete against each other in more than 30 different athletic events such as basketball, bowling, track and field, and triathlon.  Today there are more than 100 companies that participate in KCCC.
Fast-forward 25 years and instead of aerobics classes, you have corporate boot camps. I see a lot of similarities with the aerobics craze of the early and mid 80's and the boot camp craze of today. The high intensity workouts we did back then incorporated a lot of the same movements that are used in today's boot camp workouts. We didn't use sandbags and kettle bells back then, but there were a lot of burpees and plyometrics.
Another big difference between the 1980's and today…no more spandex!
With the recent influx of personal trainers entering the corporate fitness market, I've been getting a lot of calls and emails asking how to get started. As Chet Holmes explains in, his "Ultimate Sales" book, there are seven steps to every sale.
There's really no difference between selling personal training and corporate boot camps. The hardest part is getting the attention of the client. How do you get their attention in the first place? It's all about marketing. You've got to be where your potential client lives his or her life. Whether it's in the publications they're reading, the TV show's they're watching or the restaurants they're eating, you've got to have a presence.
Once you have their attention, you've begun the process of Establishing Rapport. ?Recently, while doing some market research, one of my long time clients said to me "If I didn't know you, I wouldn't have anything to do with your program." Harsh words? No, just the reality of today's fast paced; get it done yesterday lifestyle. The truth of the matter is that it was the ultimate compliment. I have worked with his family for more than 20 years and have developed an incredible friendship and business relationship that benefits both parties.
Because of the relationship I have developed with him and his family, I was able to secure a corporate contract that has allowed me to expand my business to different parts of the country. By the end of next year we may have the opportunity to grow with them internationally.
The key is that I already had his attention when I approached his company about my corporate boot camp program. Remember step one, of the seven steps of sales, Establish Rapport. All of my clients are my friends, and each of them is potential source of added business from referrals in my personal training and corporate boot camp businesses.
If you are a personal trainer trying to break into the corporate fitness market, you've already got a great head start, your current client base. Use what no one else, except you has…your list. That's right; leverage each and every one of your clients.


The research is overwhelming when it comes to workplace wellness programs lowering health care costs for businesses so, steps two, three, and four of the sales process should fall right into place. Step number five can be a little trickier. How do you overcome objections? Let me give you one example.
When I first proposed our boot camp program to a corporate client, I was told that too many of their employees traveled and wouldn't benefit from our workouts. Since my personal training business had an online component, I suggested that we add it to the company's program. That way, they could take their workouts and meal plan anywhere they traveled. Problem solved, objection overcome, contract signed.
Perhaps the second most important step in the sales process is the Follow Up. That's right, it's not finished after you close the sale. Did you know that it costs six times more to get a new client than to sell something additional to a current client? If the hardest thing we do is to get the attention of a new client, doesn't it make sense to make a special effort to keep your current clients happy?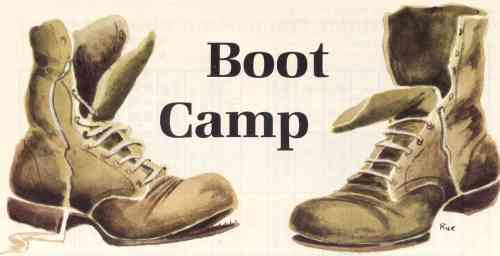 There are several things you can do, as part of your follow up, such as sending a monthly newsletter or greeting cards, holding client appreciation events or giving them small gifts that are relevant to your business. These are very important tactics but, more importantly, there has to be an open line of communication. The decision makers have to be comfortable enough with you to tell you when something's wrong. Apathy is your worst enemy.
The best-case scenario would be to have the decision makers participating in your corporate boot camps. That way they can see exactly what's going on with your program. There's an energy that's hard to explain with these corporate boot camps. The participants in these programs bond with each other. It's almost like a fraternity. If the decision maker doesn't participate, you must make a special effort to keep the lines of communications open. I always tell the participants to share their experience with the management of the corporation. Nothing sells your product like enthusiastic campers. Recently, one of my boot camp instructors told me that one of his campers came to him after the class and said "Next week I'm on vacation, but I'm coming in so I don't have to miss my workouts." Now that's the kind of advocate you want spreading the word about your business.