Our Boot Camp is just blowing up. At least that's what I hear. I decided to stop by there the other day for the first time in 3 months and found out that we have 3 new employees that I have never met.
Wow is this how people like Donald Trump feel when they have employees that they never ever met? That was a big moment for me when they all said that they know who I am and thanked me for the opportunity.
Seriously, I never thought I will be at that stage of automation.
It all started about 9 months ago my my partner (Alejandra) approached my about opening up an indoor boot camp. At first I thought "another person just talking". After all I have been approached by at least a dozen people about "partnering for a boot camp".
So I made Alejandra jump through some hoops to see if she was serious. After all many people talk but when the rubber meets the road they don't do S***.
So fast forward 9 months later. We have 342 active (PAYING) clients. Let me reiterate PAYING. I am not counting Groupon, trials, etc…….
I am talking about recurring monthly billing. So while some boot camps say we have XXXX clients and most of them are human billboards, trials, etc….. We actually have 342 paying clients.
I actually get an email on the first showing me each and every client's transaction. See below DID YOU NOTICE #342 8-)
Your scheduled payment was processed.
Customer ID: 342
Customer Name:
Customer Email:
Contract ID:
Payment Account Type: CC
Amount $97.00
Date: 6/1/2011
Merchant Name: THE CAMP
The other day I was looking in the magazine and  I saw the below ad for the first time (my partner put this ad out). I was so upset that I didn't think of it first. It was absolutely BRILLIANT (later I found out her husband Luis was the mastermind behind it).
Notice how she used our USP (unique selling proposition). That's where it says "The Only Boot Camp……."
Notice how she uses risk reversal " Guaranteed weight loss or your money back".
Notice social proof from everyday people AND a bikini model. (very important to cover both end of the spectrum)
Notice more social proof from Medical community (builds trust): "Preferred weight loss program for Prime Care Chino and 133 local doctors"
Notice low barrier of entry offer: As low as $47 (that's for twice a week program)
Notice use of lead generation. (Video lead generation totally out pulls crappy reports) Give something with some real value a generic report found on every other fitness site is NOT good enough anymore.)
What you can't notice is probably the most important factor in advertising. PLACEMENT. We have negotiated the first page on the right hand side inside of this magazine. In front means more exposure and right hand side definitely pulls left hand side of the page.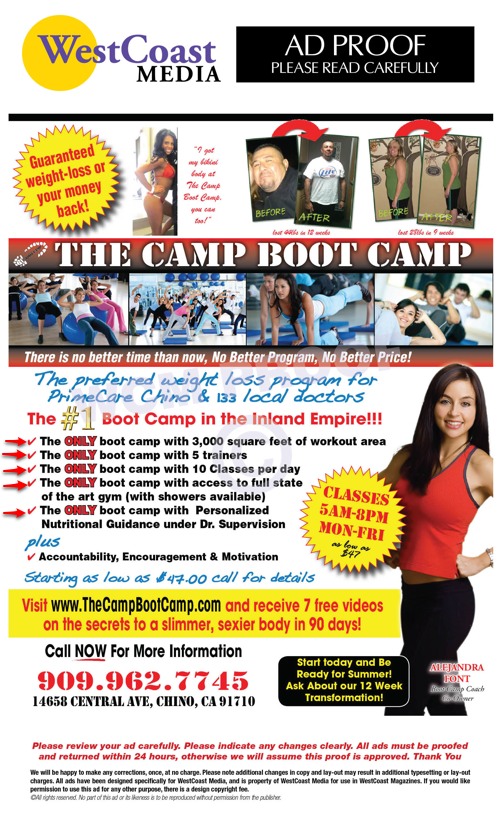 Breakdown of our numbers for May
342 clients X $97 per month = $33,174.00
Rent = $2000.00 (Yes I negotiate hard)
Utilities&Cleaning = $306.00
Payroll = $2870.00 (I sure as hell don't teach and Alejandra phased herself out)
Insurance = $150.00
SEO = $800 (Got to dominate the search engines)
Off line Ads = $1800
Contact Formula & Aweber = $138
Credit Card Processing = $934
Net Profit = $24,176.00
So I got into a big fight with "boss lady"about my paycheck. It's all caught on tape.