Just like your favorite muscle magazine, I can't help but have a gratuitous post about Arnold Schwarzenegger.
Check that – mine isn't gratuitous at all – Arnold fits perfectly into the series we're running here, TOP FIVE TRAINERS TURNED ENTREPRENEURS OF ALL TIME.
Didn't know Arnold was a trainer? Well, he most certainly was, and it's a pretty funny story which we'll get to later.
But as it relates to training, if you think about the impact Arnold has had on your life, it's pretty amazing.
For one, if you're a guy, you've probably been doing single-joint isolation exercises most of your life, even if you're a hopeless ectomorph that probably has no business training that way.
And most of the gyms we train at are built around the impact Arnold's methods have had on our culture.  The fact that nearly every gym you go to has five different hammer strength machines just to hit your upper back has a lot to do with Arnold's impact.
And that's just talking about fitness – we all know that Arnold had another job, and his accomplishments with that one are even more impressive, if that's possible.  We normally wouldn't consider acting as a way to be an entrepreneur, but in Arnold's case he took his big movie paychecks and notoriety to become a heavy hitter in other ways.
For one, Arnold's been an avid real estate investor since his 20's, and he now owns hundreds of millions in property, including a major mall.
Learning Arnold's story is an exercise in what's possible with ridiculous goal setting, and extraordinary achievement – it's something we can all learn from.
Now going back to his stint as a trainer, in his recent biography title Arnold, which I talked about in a previous post Arnold talked all about it, and, I'm warning you, it wasn't pretty – here's how he described it:
"At first, confronted with these people who'd come to me for guidance, I felt helpless. I thought I still needed someone giving me advice on my workouts. But I realized I had to do it in order to survive.
"I had to live a split life, acting as an instructor to the health club clients on the one hand, and trying to train myself for the Mr. Universe title on the other. It was frustrating. People who would never benefit from what I told them kept taking my time. They paid and came to the gym. But it was a disgusting, superficial effort on their part. They merely went through the motions, doing sissy workouts, pampering themselves. And there was so much I wanted to do with those wasted hours."
Ha! – pretty brutal huh?  But you're lying if you haven't felt the same way yourself at times …
Ok, that's enough set-up – here's the post:
——————————————————————————————————————–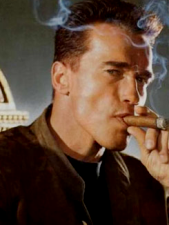 Arnold Schwarzenegger is THE most well known bodybuilder turned fitness entrepreneur and Hollywood actor on the face of the earth. There is no other bodybuilder on this planet that has made such a profound impact on bodybuilding as a sport.
Arnold was born in Thal, Austria, a small village bordering the Styrian capital Graz. Growing up in a Roman Catholic family, his parents were very strict, which was not surprising given that his father was the local Police Chief. He picked up his first barbell in 1960, when his soccer coach took the team to a local gym. He was 14 when he started an intensive training program with Dan Farmer, followed by an extensive study of psychology at 15, and then at 17, he officially took to competitive bodybuilding.
His first win in competitive bodybuilding came when he skipped his basic training camp in the Austrian army to take part in and win the Junior Mr. Europe contest in 1965, which resulted in him spending a week in army jail.
But, Arnold would not settle for being the best in Europe, he wanted to be the best in the universe. He sat on a plane for the first time when he flew to London for the Mr. Universe competition. He came that the offered to coach him. After a couple of years of intensive training, he won the title for the first time in 1967, becoming the youngest ever Mr. Universe, a title he would win four more times in his career.
Arnold then went to Munich where he trained 4-6 hours a day and attended business school. During his days in Munich, he always told his friend, Roger C. Field, that he would become the greatest actor ever. Arnold eventually moved to the US in 1968 at the age of 21. He began training at Gold's Gym in Santa Monica, California, under Joe Weider. In 1970, at 23, Arnold won his first Mr. Olympia title in New York, becoming the youngest ever title holder at the age of 23. Arnold has won every major bodybuilding competition there is to win. After wining the Mr. Olympia title six consecutive times, he announced his retirement for professional bodybuilding to consciously focus on building his acting career.
As an actor, he got his first break to play the role of Hercules in 1970 in 'Hercules in New York'. In spite of being discouraged by agents with things like your accent is too thick and your body is weird, he continued his pursuit. His first big hit was the movie Conan the Barbarian in 1982. This was followed by the first of three iconic appearances as the lead in 'The Terminator', directed by James Cameron. Projected as the biggest action hero in the 1980s and the early 1990s, Arnold was named as 'International Star of the Decade' by the National Association of Theatre Owners in 1993.
Much before his stint in acting, he became a fitness entrepreneur, by starting a series of successful business ventures. In 1968, he and fellow bodybuilder Franco Columbu started a bricklaying business. Both of them plowed the profits from this business back into the setting up of a mail-order business, selling bodybuilding and fitness-related equipment and instructional tapes. He eventually used his earnings from his businesses and his prize money from bodybuilding to make a real estate investment. He would go on to invest in a number of real estate holding companies later on. He was already a millionaire by the time he entered Hollywood.
His most well know venture was Planet Hollywood, a chain of international theme restaurants (modeled after the Hard Rock Cafe) along with Bruce Willis, Sylvester Stallone, and Demi Moore. He eventually exited the business in early 2000, when the returns on his investment did not match up to his expectations.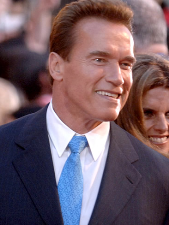 Arnold gradually phased out his acting career to play an active role in politics. He has been a registered Republican for many years, unlike many of his contemporaries from Hollywood, who were considered as Democrats. His first close brush with politics came when he was appointed chairman of the President's Council on Physical Fitness and Sports, a post he held from 1990 to 1993. George H. Bush dubbed him as 'Conan the Republican'. Arnold finally took the plunge in active politics and announced his candidacy in the 2003 California recall election and won. He became the first foreign-born governor of California since Irish-born Governor John G. Downey in 1862.
On April 26, 1986, Arnold married television journalist Maria Shriver, niece of the past President of the United States John F. Kennedy, in Hyannis, Massachusetts. They have four children and they currently live in their 11,000-square-foot (1 022 m²) home in Brentwood.
Arnold's net worth has been estimated at between $100-$200 million, with some estimates as high as $800 million. LA Weekly said in 2002 that Arnold is the most famous immigrant in America, who "overcame a thick Austrian accent and transcended the unlikely background of bodybuilding to become the biggest movie star in the world in the 1990s."
——————————————————————————————————————–
If you've set some bold, ridiculous life goals for yourself and aren't sure if you can achieve them, reading this about Arnold should make them seem very small and attainable by comparison.
And did you notice how for a while Arnold was an INFO-MARKETER?  Isn't that just crazy?!?!?!?  As you can see, this blog is definitely on to something!
Even if you're not feeling as negative about training as Arnold, you can still use Personal Training as an amazing stepping stone like he did.
What did you learn from Arnold's story?  Leave your comments below.
And if you are ready to make your move on to the next phase of your fitness career, it's time to get started!
BIG-MONEY IS COMING – 7/15/09