Guest post on a running a Personal Training Business from IDEA Personal Trainer of the Year Nicki Anderson: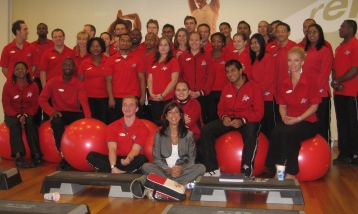 After more than 12 years of owning my own business I have come to realize there are certain pieces of the "training" puzzle that are necessary to create and maintain a successful business; be it for independent trainers or business owners. The pressures and responsibilities of calling your own shots are vast and keeping clients happy while keeping business productive is an ongoing challenge.
Through trial and error, I have discovered five keys necessary to building a thriving business that will keep your clients coming back for more. I believe utilizing the following keys will enable you to run a successful business resulting in a strong client base. Utilize the following keys and watch your retention numbers soar!

1. Be honest and fair
Nothing earns you more respect as a trainer, manager or owner than to be fair and honest. I have never done anything in my business to compromise my integrity as I have always been fair to staff, clients and community. This has been invaluable to my business not only from a personal perspective but for business as a whole. Staff and clients value honesty and fairness and will typically follow suit. This is what creates a positive synergy in a working environment. Keep in mind, health clubs tend to get a bad rap for not being up front about hidden costs and promises of "thin thighs in thirty days". Here's your opportunity to break the stereotype and prove yourself a true professional.
2. Be consistent
Inconsistency can have a pretty negative impact on your training business. Rules are rules and the minute you play favorites or change the rules as an "exception" you're opening up the proverbial "Pandora's Box."
An example of inconsistency might be charges for last minute cancellations or regular assessments. If clients see that you charged them but not another client, they'll be long gone before you have a chance to rethink your position. Same goes for staff, across the board the rules should apply to all, otherwise you'll be turning over staff quicker than you can say, "bench press".
Consistency is vital to running a business by staying true to your mission and values. If you and your staff are all privy to your mission and values, you will have a staff that works well together with clear expectations.
3.  Great communication skills
More often than not, one of the most areas where I frequently find negligence is with communication. In our industry, good communication skills are paramount. This includes clear client expectations about training and results, etc. If clients have a clear understanding on what to expect with their sessions, they will never leave due to unfulfilled promises.
Good communication skills also apply staff and management. If they aren't clear about their role in your facility you've got a recipe for disaster and on-going power struggles. This transfers to clients and creates a negative working environment. Breaks in communication can be the difference between a thriving personal training business and one that desperately needs an overhaul.
4.  Be a good listener
As a boss AND trainer I have learned that there are ALWAYS two sides to every story. Listening closely to your staff as well as clients can help dictate where you take your business. Some of the best ideas for my business have come from clients. Providing an opportunity for clients to share their input for business makes them feel a part of something valuable, part of a community if you will. The same goes with staff, if you provide a platform for their feedback about you or the business, you can get some pretty valuable insight into what is working at your facility and what is not. A suggestion box for both staff and members is the best way to get feedback for success!
5. Knowledge is Power
If you think you know it all, you're in trouble. Some of the best trainers I know never let their commitment to continuing education waver. They realize the value in an ever-changing industry and know that it's their responsibility as professionals to stay on top of the latest in fitness education. There are literally hundreds of opportunities each year to expand your knowledge as a trainer. IHRSA now offers an invaluable entrepreneurial conference so no one is left out. Visit www.IHRSA.com and see what conferences are coming up!
BONUS LESSON:
* Be willing to trust
There is no question that running a business involves a lot of risk. Whether it is hiring a new employee or making the decision to go with a particular vendor, sometimes you just have to be willing to trust your decision and live with the consequences. Obviously, if it's a big business decision, you'll want to do your homework, but over analysis can breed paralysis so there comes a point where you just have to trust yourself to "go with the gut" and trust your business acumen.
Here's to continued success in a business that always offers challenge but promises plenty of opportunity!
—————————————————————————
Nicki Anderson, NASM is an IDEA Master Trainer and President of Reality Fitness, Inc. in Illinois. She is the author of, Reality Fitness; Inspiration for Your Health and Well-being. In addition to business consulting and speaking Nicki is the health and fitness columnist for Chicago Suburban Newspapers and the family fitness columnist for eDiets.
Personal Training In Naperville Reality Fitness