Despite the fact that Nate Green's a fitness author, I'm convinced he's a confirmed alcoholic – because he leaked the sales page to the new TOP-LEVEL TRAINER PROGRAM on his blog yesterday,  even though it's still being edited and I clearly told him it wasn't live yet!
I guess I can't be too mad – he hardly plugs anything on there, but he was really impressed with the advanced copy I sent him to look at …
Do you wanna know the funniest part? Two of his readers actually purchased it off of that rough sales page!  I guess they were able to overlook a couple of typos …
So I've shut down the payment links until tomorrow, when the product goes live at 12 noon eastern time.
Since this thing has pretty much officially begun, let me share some more details on what's in it: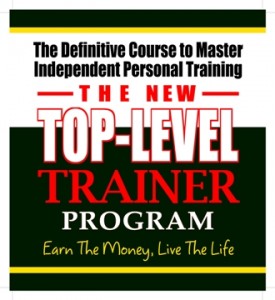 1. Step-by-Step Tactics – I'm sure you're tired of general information, and there's a lot of meaning that's lost in just the printed word.  In the audio and video parts of this program, you'll hear my voice and watch over my shoulder (literally at times) to see what you have to do right now to get your training practice and expansion plans immediately established!
2. World Class Panel – I've assembled a who's who of industry big shots, gurus, and uber-successful professionals to share information relevant to the trainer that's looking for a six-figure, high-earning practice on their terms.  Again, we deliver tactical information (not the pleasant conversations you hear on the blog), much of which has never been shared before (I'll fill you in on the list of guest speakers tomorrow).
3. Private Coaching – Every single trainer I've coached privately has at least doubled their earnings and achieved explosive growth in a very short time – so I wanted to make sure private coaching was included here too.  You'll get one-on-one coaching with me, and also revealing conference calls with other program owners to uncover questions and issues you may not have thought of.
I'll say it again – this program is designed to set you up for real success – for goals so high that you might be embarrassed to admit them to anyone, but you know they're there, and all you've been missing is a plan to achieve them.
Yeah, those are ambitious goals to achieve for a simple program, but that's exactly what I set out to do with it.  That's exactly what this program preaches – aim as high as possible, and you'll be amazed by what you accomplish.
So keep an eye on the blog – tomorrow's really the day!