Hey Party People, what's good? Well, I will tell you what's good in my life…
Saturday, May 21st, 2011 = 16 weeks of Diet, Insane Workouts, and Prep were put on stage in front of over 700 people at the Midland Theatre in Kansas City, MO for the 2011 WBFF US Central Championship.
Sunday, May 22th, 2011 = I shot for a feature in STATUS FITNESS MAGAZINE
Monday, May 23rd, 2011 = my partners: 7-Figure Sam, Dustin "The Dominator" Martarano, and Jamie "The Quiet Storm" Philippi launched Chi-Town Boot Camps. Not one location, but three locations around the Chicago land area…all in which have atleast 3 time slots at four days a week! Did I mention this little business venture with these bad ass dudes made over 18K the week prior before we even opened the doors? You might want to write this down…Group On is pretty much gangster when you have all your systems in place to rock it out! 905 sold…not a bad weekend!
So, yeah I guess you can say my week was pretty insane, however, it has probably been one of the most badass weekends I have had in a long time. As you see above I competed in the 2011 WBFF US Central Championships. I was part of what has been slated as the most competitive and INSANE Male Fitness Lineup in the history of the WBFF. Yeah, I decided if I was going to step on stage I was going to do it with the best-of-the-best. I didn't want to bust my ass for 12-16 weeks and get there to compete against 3 or 4 dudes that cheated on their diets and spent the weekends eating ding dongs and skittles. Let me tell you, this was not the case with the cats on this stage…as I looked to my left and my right I saw Bodybuilding.com sponsored athletes: Scott Dorn, Kelechi Opara (Optimum Nutrition Spokes model also), and Amer "The Hammer". Not to mention three dudes that I have seen in more fitness magazines that I can count…Sean Harley, Everett Henderson, and Darrell Holloman were all on point! At this point I was thinking to myself "this is pretty badass, let's do this!" I think a lot of people were surprised that I had NO FEAR…well, I worked way too hard to let some big names and shredded bodies scare me away. I put on the game face and battled, I had no problem popping a bicep in front of their face or just talking a little trash to them to let them know I wasn't going anywhere. Not only did they respect me for this, but it caught the attention of more than just the competitors! I guess this is what leads me to this post…I think we are all in the fitness business industry for similar reasons: we want to help people live happier and healthier lives, provide a service with a substantial amount of value, build a successful business, and in the process make a little money (okay, make a lot of money).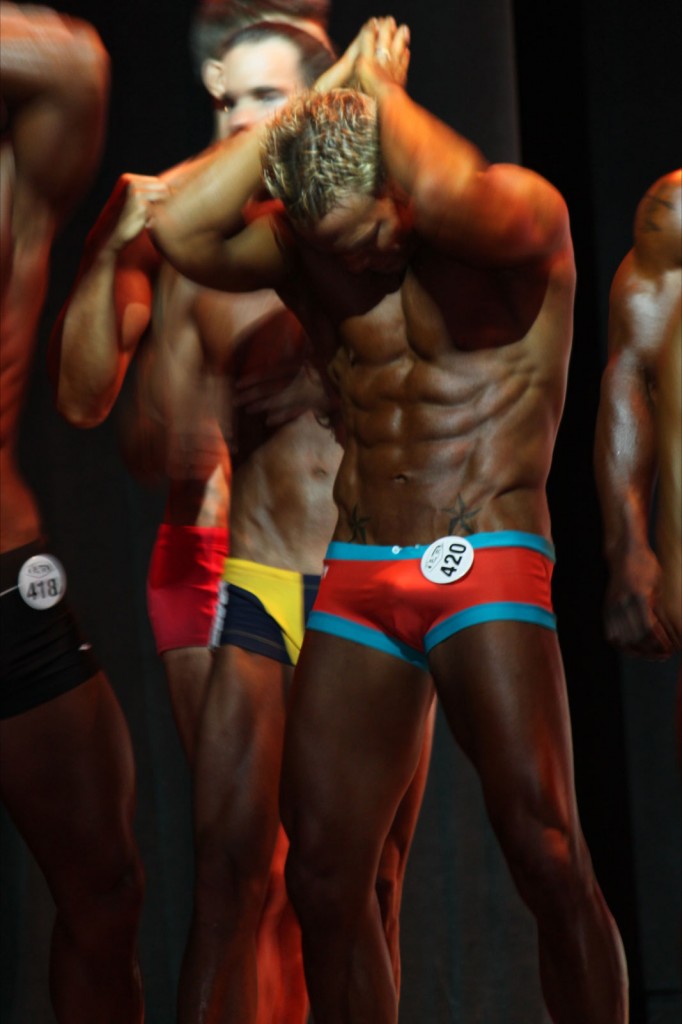 I know I trained my butt off for this show and brought the best CK I could…at the end of the day I didn't place in the Top 5 (being a competitive person, this really sucked ass) however, I definitely WON! Yeah, I know that sounds ridiculous and cheesy…but, I was 1 of 10 males chosen for a magazine feature with Status Fitness Magazine! My name is now out there in the WBFF and I had the opportunity to shoot with some of the best fitness photographers in the business. Now, this is where it really gets crazy…in the last five days I have received over 700 friend's requests on Facebook. I had to create a FAN PAGE and that already has over 100 fans. I get private messages everyday from individuals asking what I do to get my six pack and other fitness related questions. Obviously I would love to answer them and let them know ALL my secrets, however, I am a business person. I answer ALL the messages and thank them for compliments and for being a fan and give them some basic information that can help them get started. I then make sure to tell them about my business' blog and to make sure they follow it and also inform them that I will be launching my website in the next few weeks that will give tons of great fitness content and also offer a all inclusive coaching program. I know that when they start to read my blog and follow my posts daily on Facebook and Twitter that they will begin to like me, know me, and eventually trust me! I know it seems a little crazy, but I was told when I decided to compete that this decision would take my business to another level…that it was going to BLOW UP! I thought it would help after I was in the circuit a little while, however, I had no idea it would immediately go crazy and I would be getting friend requests from ALL OVER THE WORLD! Yes, these are not people from Chicago…currently I have people from over 16 countries and it seems to be growing daily…pretty awesome.
I have come up with this for the reason…these people see an average dude like me that busted his ass and was able to transform his body in 16 weeks and have the cajones to step on stage next to some of the biggest names in the industry and place 12th out of 40! On top of that they learn that I am a husband, a father, a personal trainer, and a business owner that practices what he preaches and is crazy passionate about fitness! Not to mention, my wife did the show and placed 4th in a class of over 30. She also had to create a fan page after hundreds of friend requests from all over the world (did I mention my list just got bigger? YEAH BUDDDAAAAAAY!)
No worries, this has helped at my studio as well as at the Boot Camps. I received three messages this week from high school and one college classmate. They saw my progress pictures and have followed my status updates over the past weeks and have decided it was time to make a change. I heard things like "your dedication is contagious" and "your determination is inspiring". This is why I got into this industry people…reading these messages had me happier than a pig in shit! The best part of it is…these people where NOT talkers…I had one consult and they are in our Targeted Total Body Training at Premier. The other two jumped on the Group On and has already talked to me about continuing after it is done. It is things like this that make the hours on Face Book and constant updates worth the time. It is things like this that made those INSANE workouts for 16 weeks worth it. I guess the best part of this is that I am still getting friend requests and my LIST is growing each and every day. I have already decided to do another show…89 days until I will walk on stage at the WBFF Worlds in Toronto. I know business is just going to keep growing and growing and that Premier, Chi-Town, and soon my website are ALL going to be kicking ass!
I guess what I really want you to get out of this post is that the Power of Practicing what YOU PREACH and Self Promotion can truly take your business to new heights. I have always worked out hard and taken care of my body…however, I never used a social media source to let everybody else in on it and I sure as hell never got on stage in some tighties and strutted my stuff! I can tell you this though…you are going to be seeing me a lot more in months to come! I will be blogging, and posting videos and what not on Facebook, and well I am booked to shoot with two of the top fitness photographers again in two weeks! If it isn't on-line maybe it'll be in a magazine…but I know one thing for sure, it is going to ALL BENEFIT MY BUSINESS! I guess you can say life is pretty good…I hope you enjoyed my post and I hope to hear some feedback sooner than later! Ya digg!?
KASTNING OUT