Right now, I'm going to share a secret with you about the fitness business that'll probably change your life.   If you've been getting mediocre results, had low satisfaction, or are on the verge of burnout, then this secret will literally be the key to you expanding your income, enjoying what you do, and probably transforming every other part of your life as well.
It's the idea of becoming COMMITTED to what you're doing.
The reason a lot of personal trainers have trouble with the fitness industry is because they just aren't committed to it. They got into personal training as a side job. They stayed in it long enough to maybe go solo, and they might be doing okay. But I'm sure OKAY is not good enough for you. It never has been for me either.
The reason trainers don't hit the next level in income, satisfaction, and respect, is that they never consciously decided to.  If you don't put all of what you have into the game, it won't give you back anything in return.
What does it mean to be committed?

It means you strive to take a leadership position in your business, which means that you stop doing the day to day work, and instead do the planning, the goal setting, operations, and quality control.
It means you become friends with many people in your industry, both up and down the totem pole.

It means you commit yourself to continuing self-education – to learning everything that the movers and shakers are doing in your industry.

It means you take a leadership role yourself and start teaching others what you know.
Once you're committed, the results start to come, and the fringe benefits along with them.  These positives practically happen automatically. They happen by themselves for no other reason than the fact that you're now single minded and focused.  I don't want to get all woo-woo on you, but you start to ATTRACT them into your life.  The law of attraction means that fitness success comes to someone that is success minded.

So if there's just one piece of advice I have to transform your career and start to get results, it's to suck it up and get committed to fitness – to being a somebody in this business.  I don't mean committed to training clients one-on-one the rest of your life. What the purists fail to realize is that you cannot improve people's live and make a positive impact on the public's health unless you are funneling their butts through your doors and making money off of them.
If you're committed to this industry, to growing in it, to taking the next steps in it, and to see yourself among the leaders in it, it's just going to take a decision from you – the results will speak for themselves.
——————————————————————–
How'd you like that article?  I've been on a negativity binge lately, so I thought I'd blast out a dose of motivational energy.  The negativity has it's place by the way.  I'm a big believer in identifying and preparing for the down side in everything.  If you read my lazy trainer post, you understand my belief that making things as simple for yourself as possible is the only way you can expect to make some money at this.

Today, as we come into the last day of the launch of THE NEW SIX-FIGURE TRAINER PROGRAM, I have one additional, secret bonus that I want to share with you.
Based on the feedback I got from readers and previous product owners on what they were looking for, what most expressed is that they wanted to take the next step in their careers.  To help them do it, I created an exclusive upgrade to the program, called THE SIX-FIGURE PLATINUM SERIES.
I even skimped on the set-up of the product site and my selling during this three day launch promotion to make sure this platinum series upgrade was done right.   My higher priority is not cashing in on the buzz now – it's creating an enduring, quality product that brings value to trainers for years.

The PLATINUM SERIES is about VISION. Vision is what defines leadership.  It's the backbone to your goals.  It's the light you're headed towards.  It's the big picture dream you're trying to achieve.
This upgrade is based on a vision of automation, predictability, outsourcing, business systems, and high profits.  It's a step toward the goal of a business that runs on systems and not sweat.  That others can operate and you can benefit from.  And the foundation of a business that can be sold or duplicated, not a job that must be worked in and attended to.

If you're ready to step up and think critically about your business on a level that reflects the modern age we're in today, take a look at the modules that area  part of THE SIX-FIGURE PLATINUM SERIES.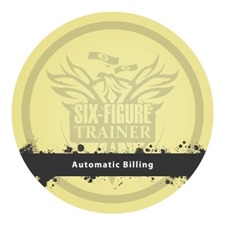 AUTOMATIC BILLING ($47 Value)
If you're a trainer and you've been doing you're job right, you know that clients keep coming back. Have you ever wished you could automate the process?
Unfortunately it's not as easy as you think. Clients are not used to paying for services in automatic payment cycles. It takes certain skills and techniques on your part to get them to buy in to it.
Once they do, you can simply sit back and enjoy yourself with your clients, and never let money come up in the conversation again (until you decide to raise prices, but that's another story).
In AUTOMATIC BILLING, you will learn how to convert your training practice over to strictly high value automated billing cycles.  You'll know how to sell it, how to implement it, and have the sample contracts to make it work.

REFERRAL AND RETENTION REPORT ($47 Value)
The lifeblood of your training business are retention and referrals- once a clients starts, getting them to stay for life, and getting them to bring you more people like themselves.  Once you learn this part, you have the foundation of a fitness business that can grow unlimited in size.
The REFERRAL AND RETENTION REPORT will show you how to unlock the power of repeat business and word of mouth.  Referrals bring your marketing costs down to zero.  And retention raises your profitability through the roof.  This module gives you systems to increase both.  Once you implement referral and retention systems, and combine them with a good team of employees, you can finally breathe easy and have a business you enjoy .

TIME MASTERY ($47 Value)
Most people think they want more money – but really the most valuable asset we have in life is time.  In this module, you will learn to get the very most out of your time.  And even more important, you will learn how to eliminate and delegate as much of your work as possible.
Learn time management tricks, tactics, and psychology.  You'll learn how to make the most possible money for every hour you put in to your business. How to outsource repetitive tasks. How to find a high quality assistant for dirt cheap prices, that will take care of everything from doing your laundry, buying your groceries, filling up your gas tank, and buying you coffee. And you'll learn how to delegate seemingly complex activities in your business as well.   You'll also learn strategies on destroying procrastination, which is one of the major thieves of time.  These are the first steps to creating a high profit business that serves your schedule and ideal lifestyle.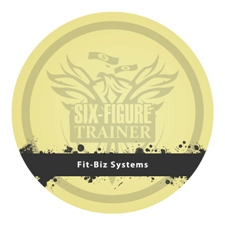 FIT-BIZ SYSTEMS ($47 Value)
You don't have a real business unless you have systems. Luckily, personal training is a product and business model that is perfectly built to run on systems. It's a high paying, continuity based product, based on big-ticket transactions.  Once you've systematized the business, you can essentially put it on autopilot.
Not only that, but creating systems in your business is also what sets it up for growth.  Systems thinking is the most valuable mindset you can possibly have as a business owner.  This module will get you started.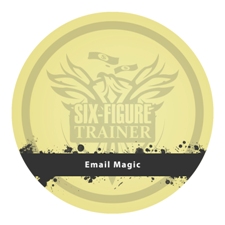 EMAIL MAGIC ($47 Value)
Whether you realize it or not, email is the most important marketing vehicle you have at your disposal.  You'd have to call it a miracle because not only is it practically free to use, but it can automated.
In this module, you'll learn how to craft email promotions and how to automate them so they do the job of converting your prospects into customers without you lifting a finger.
You'll also learn advanced strategies such as how to avoid redundant promotions, how to segment customer lists, and and create an automated sales funnel that guides your prospects into paying customers.  Plus, you'll learn writing strategies to make sure your emails are opened and read, and how to create promotions that get the greatest possible response.  Once you learn the power email can have on every aspect of your business, the impact on your profits will be overwhelming.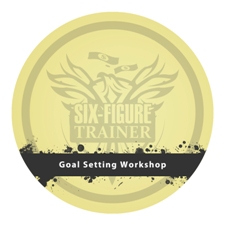 GOAL-SETTING WORKSHOP ($47 Value)
Sure, you could spend the next few months working very hard to grow your fitness business. But have you identified exactly what you're trying to achieve through fitness?   Have you set realistic timelines to achieving it?  Have you converted these goals into a clear plan that can be acted on and measured?
If not, you're actually flying blind.  That's why I put together THE GOAL SETTING WORKSHOP.  This module is suited to specifically be applied to your lifestyle-based fitness business, and to help you attain and exceed your goals as fast as possible.  Without this attention to the big picture and how to make it a reality, this course simply wouldn't be complete.
——————————————————————–
There you have it – that's your PLATINUM SERIES upgrade that will be yours FREE if you jump on the new PROGRAM before midnight tonight, pacific time.  This upgrade will be sold for over $200 after today.  It comes with the six modules described above, along with a special PLATINUM SERIES program manual.  This truly is enough valuable information for it's own high-priced course, but will only be useful to trainers that have mastered the basics of THE SIX-FIGURE TRAINER PROGRAM.  If you're looking for the pinnacle of what owning a fitness business today has to offer, be sure to get in on all of this by midnight tonight.  Here's where to get your copy: