BIG-TIME "DREAM-SETTING" FOR PERSONAL TRAINERS
Posted on 20. Mar, 2009 by 7Figure Sam in Fitness Marketing Strategies, Personal Trainer Marketing, Personal Trainer Sales Systems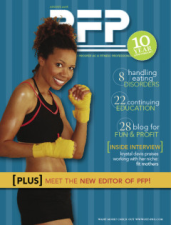 If you follow the blog, you know I'm against most industry stuff – most of it is rhetoric to hold up the status quo … and that status quo is trainers getting jerked around in the big gyms, making less than 30 grand a year, and forced to abandon PT and go into other boring careers – all in a career that pays on average, 75 bucks an hour – in my mind, that's not going to cut it anymore …
But one magazine that really "gets" training at its best is Personal Fitness Professional Magazine.  They're the only mag that I really pay attention to, and the only one that I'd consider writing for.   This credit has to go to the editor Shelby Murphy.  She just put up a real cool video on the PFP home page called Stepping Up.   I found it excellent because just like the magazine as a whole, Shelby "gets it" too – she's calling for us to pursue our absolute highest dreams and view Personal Training as part of that larger mission – here's her video:
Ha! Not what you usually hear, huh?  That one really got me psyched and thinking big!
Here's the link to PFP site. Be sure to pick up a subscription!  And keep an eye on the blog because I'm going to have Shelby on here to talk some industry issues in the next week or two.
______________________________________________________________
Want More Killer Info? Check Out: