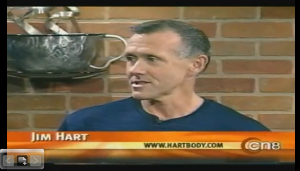 The term "Master Trainer" gets thrown around a lot – you can even get a certification that will give you the title for just a few hundred bucks …
But in my book it's something you've got to earn, and there's one guy I know who fits the profile: Jim Hart.
Looking at Jim will not only show you how to establish a successful training practice; he's also an example of the career potential Personal Training holds even beyond the years that people typically enter this field (Jim is 50).
He's been running his private training practice out of Philadelphia for some time now, and it hasn't gone unnoticed.  He gets covered frequently in the local media through no real effort of his own: you just can't keep a good thing under wraps.
I got on the phone with Jim recently to talk personal training.  This interview is especially timely with a lot of the questions I've been getting from trainers wanting to get back in the game of training later in life.  From this conversation with Jim and last week's interview with Greg Justice, I think it should prove that it's more than possible.
Here's the audio of my interview with Jim below. The sound volume on Jim's voice is a little lower than mine, so you may need to jack up the volume on your listening device if you can't hear him.  To download the MP3 to your computer, right click on it and hit "Save Link As".  Or you can just click the link and it will play in your browser.

Jim Hart Super Trainer
Jim is one of the types of trainers that I was talking about in the last blog post: doing very well from training without really seeming to try.  There's obviously a lot of know-how behind what he does, but it's a perfect example of how you can ride training for as long as you want once you get started.
—————————————————————————
Want some more profiles of Top-Level Trainer you might not have known about?  Then check these out:
Live Interview With Cynthia Conde
Storm Fitness Owner Jessica Storm
Washington DC Top-Level Independent Trainer Doug Murphy