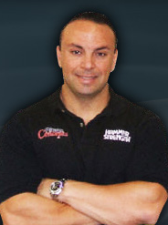 We've had some big time trainers on here – people that have set  great examples  we can learn from and lessons we can apply to our own businesses.
But right now, we have a trainer that takes the cake – Dr. Sam Bakhtiar!  In terms of running a successful business and doing it in a way that we can learn from and apply to what we do, he's really the master.
If you've never heard of Sam, that's because he's actually doing it in the real world instead of talking about it online.  Him and his business are an example of the balance in practice and service, operations and marketing that it takes to "get" this Personal Training thing. If I'm raving a little bit about this guy, it's because I've done enough things in different places to appreciate what Sam has accomplished as a Personal trainer and the level he's taken this game to.Super-Trainer west-coast correspondent Michael Duivis paid a visit to Sam's studio, Fitness Concepts in Chino Hills California, and shot some extended videos of his experience there.  A lot of killer information was shared but don't be intimidated, because the lessons you learn from Sam can be applied right now to your own business, no matter who or where you are.
Before we get into the video, take a sec to visit this link for Sam's Chino Hills Personal Training website.  You'll see exactly how to use testimonials and video that lets your Personal Training sell itself – and then come back and watch Michael's crazy videos below:
As you can see in the videos above, Sam has really taken this thing to another level.  You need to take this as an example of what's possible and can be done as a trainer – not get intimidated by it.  Just like you, Sam was once a solo trainer, and it was taking step-by-step action on the right information that got him to where he is now.  If you apply the same lessons it'll bring you success in your situation, even if it's getting out on your own for the first time and getting your first group of private clients.  Just get started and take  it from there!