It's been about five days, and the shock of the Giants' loss to the Eagles last week is starting to wear off.  From watching SportsCenter, it looks like they're handling it well too.
I remember watching the whole first half and start of 3rd quarter to the game last week.  I was laid up in bed relaxing, and the game was so boring because the Giants were dominating so hard, I passed out.
If you're a football fan you know what happened next. The Giants had the biggest fourth quarter collapse in history as smug-a** Deshawn Jackson rubbed it in our faces by taking the kick off back and toying with us before scoring the touchdown.
It felt like falling asleep on the subway, and waking up to find out your sneakers were stolen.
What's ironic is I'm headed to Philly today to spend the holiday weekend at my sister's place with my family.  This should be fun.  Sarcasm.  Not the part about family, because I enjoy that (since I don't see them that often).
I'm talking about the part of looking for things to do in a town that's football crazy and still high off the win.  I don't hate the Eagles as much as say the Patriots or Cowboys, but after two bad losses already this year, it's getting pretty damn close!
Believe it or not, there's an important lesson in watching the success of the Eagles this year.  I'm talking specifically about their QB Michael Vick, who's been the second best player in the league this year (behind only the Patriots QB Tom Bundchen).
Just a couple of few years ago, Vick was in the doghouse, literally. He was in prison doing time for the horrific dog fighting ring he was a part of.  Michael let his lifestyle get control of him.  While he was electrifying on the field, he got way to caught up in the extracurricular stuff, and had way too many moochers that wanted to glom off of his success, but were a bad influence.
Hitting absolute rock bottom (I meant it doesn't get much worse than making millions as a star, to being in prison with your houses being foreclosed), MV has turned things around remarkably.
It goes to show that no matter how low things get in life, and how many ego-driven mistakes we may make, you can always change.  You can always play yourself out. I can personally attest to that.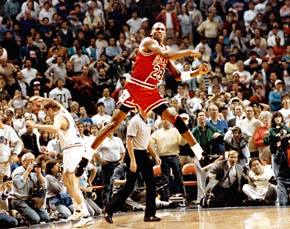 Performance is what matters.  Focus on what got you to where you are – on putting in the work to get results, putting in the time, and making the effort with the important things – F the rest.
If you didn't have an examples or role models of people that have made it with that plan, all you need to do is just turn on SportsCenter.  Remember that Sport stars and celebs are just regular people that have put in a tremendous amount of work to develop highly lucrative inborn talents. Beyond that, they are very human, which is all to obvious at times.
Spend your time and energy on your talents, of marketing your passion for fitness ie your fitness business, and you can achieve much the same things.
It's great to study sports.  It's where performance wins out over all else.  And performance can't be faked by fancy words, hype, or anything like that.  It's put up or shut up.  There's a lot to learn in that.
1.  All other things being equal, whoever works the hardest and practices hardest wins.

2.  Forget all the hot air – performance is all that matters.
3.  Confidence comes from competence and practice, not hyping yourself up or positive self talk.  Do what it takes to win – very simple.
4.  The euphoria of being a champion or the misery of being an also ran can come down to just one split second decision or score.
5.  A single superstar on a team can make regular players stars, and scrubs into effective players.  One superstar can make the difference between a championship team and a laughing stock.
Even though I'm not always a fan of their teams, I'm a fan of great athletes.  There's a lot to learn in how they dilligently prepare, their ruthless competitiveness, and their mental toughness.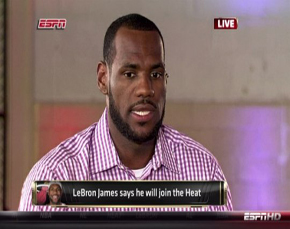 For example, I'm probably the only Miami Heat fan outside of Florida in the country (Miami is really New York City's sixth borough).
It's mostly because I'm a big admirer of their stars Dwayne Wade and Lebron James. The positive images and attitudes these guys have while being such high profile athletes is amazing.  And even though James made a total mess of his free agency and is one of the all time most hated athletes right now, it's amazing how he handles it.
Could you go out and perform every day at a world class level, knowing almost everyone in the country hates you?  Could you go back home, under extreme hatred and the possiibility of violence, and throw up a career performance?
He does that day in and day out.  I keep that in mind no matter whatever occasional self doubt, fatigue, or whatever might be effecting me at any particular time.
You can put up numbers like these big boys and get what you want out of life with the same attitude.  To dust yourself off no matter what.  To put in the work to succeed no matter what.  To perform no matter who's hating on you and praying for your downfall.  This strength of will, strength of character, and intensity is a must.  It's put up or shut up, always.
Whoa, that ended up a bit of rant, but hope you got something good out of it.  And if you're a hardcore fitness enthusiast, I'm sure you can relate to the comparison of our business to the sports world. The metaphor is a good one, because putting in the effort, dilligence, and strength of will it takes to succeed on the playing field will get you major results in the real world too.
Okay.  Today, on Christmas Eve, I want to wish you and your family a happy and healthy holidays, and prosperous new year.  I want to thank everyone for your support, positive feedback, and belief in me to invest in my programs.  I truly appreciate it, and more humbled and grateful than you would ever know.  I hope I've been able to bring you more money, joy, and happiness in your pursuits, and I'll continue to bust my tail to do so. Take care, enjoy your holidays, and I'll talk to you soon!
*************************************************
NEW YEAR'S ANNOUNCEMENT: What's your goal in the new year?  To quit the gym?   Open a studio?  Hit the six-figure mark?  Stay at six-figures but do it with more time off?
Whatever it is, make sure you hit the ground running.  The new year is the biggest time of year for fitness services hands down, so make sure you step up and get your piece of the pie.
If you want this to be your biggest year ever, but are doing it with the same old info, it's probably not going to happen.  That's why I'm giving you an added high-value bonus to my top-selling programs; and since money is always tight this time of year, you can access the programs with a special trial offer, so you can hold off on paying for them for a full 21 days, but still put the hard hitting info into action to bring you instant results.
In addition to a no-risk 21 day trial to the programs, every order this week (until Friday December 24, 2010) also gets INSTANT access to THE PLATINUM PROGRAM at no cost.  You  wont' have to wait for it – I'll send you your link right after you get on board.
With all the gift giving this time of year, give yourself one too.  And besides the convenience of getting to own, use, and profit from the course before you pay, you're also covered by a complete 365 day guarantee.
Get on board now – for THE SIX-FIGURE TRAINER PROGRAM, click HERE.
For STUDIO START-UP, click HERE.
The PLATINUM PROGRAM instant update is only happening for orders before Friday at midnight, PST (after that, it's Santa time).  The bonus program alone is a $297 value, and you'll get instant access to it.  Be sure to get on board now and make this year BIG.
Take care.