What are you doing in your business today to create and sustain it, before, during, and after the sale? If you are not asking answering that question don't be surprised when you clients leave.
Hey Armando "The Professor" Cruz here. We have all heard about delivering value but today's post is going to go over 3 Must Ask Questions you must answer to make sure you are on the right side of this depressing economy.
Listen before I go on and you think I am being negative… Like it or not times are changing. You have 2 choices: #1- Pretend like nothing is happening and keep doing what you are doing or #2 – Step up your game, prepare your business, and bullet proof yourself so when the $h#t hits the fan you are covered!
Now let's get down to business…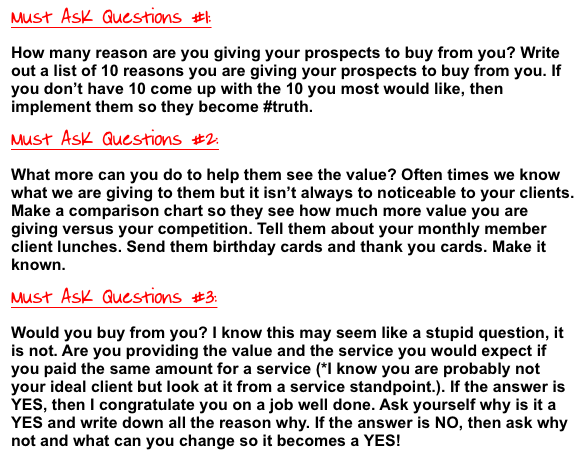 FEW WILL ACTUALLY DO ANY OF WHAT I AM SAYING HERE, JUST BECAUSE YOU DON'T SEE THE URGENCY.
MAKE NO MISTAKE, IF YOU DON'T HEAD MY WARNING YOU HAVE EVERYTHING TO LOSE AND EVEN MORE TO GAIN!
I want to see you build a legacy for yourself. I want to see you still around providing amazing value and excellent service 10 and 20 years from now. I want to make sure you are prepared.
Cheers,
Armando Cruz MSPT, ATC, CSCS