Reach Customers Faster, More Frequently and More Successfully with Your Own Smartphone App
For those who are ready to take advantage of the technology, the explosion in smart phone popularity presents an unprecedented opportunity for cost-effective marketing that gets results.
According to statistics from the comScore Data Mine (www.comscoredatamine.com), approximately 76.8 million Americans owned smart phones in 2011, an increase of about 57% from 2010. That's an incredible growth rate that you should be taking advantage of. The numbers alone present strong argument for making use of smart phone technology for marketing your fitness business, but there are even stronger reasons.
Smart phones (including iPhones, iPads and phones and pads using Android or Windows Mobile technology) allow marketers to target their audience and interact with customers and potential customers like never before. Smart phone marketing combines the best of internet marketing, traditional broadcast marketing, and social media marketing to achieve a level of interactivity and connectivity that none have been able to achieve on their own.
Personally, I think smart phone marketing is especially suited to businesses in the fitness industry. In my experience as a fitness professional, individuals who understand the value of being fit and healthy well enough to act on it by hiring a personal trainer or joining a fitness boot camp are also people that understand the benefits of smart phone technology. They also tend to be people who like to stay connected. The reverse is also true. People who understand the value of technology and connectivity are also likely to understand the value of getting in shape, making this audience an ideal target for your marketing efforts.
Now, there are a variety of ways you can market your fitness business using smart phone technology, but I want to discuss one very specific tool that is particularly cost effective and versatile. That tool is the smart phone app.
In case you're not familiar with smart phone lingo, an "app" is an application or program downloaded to a smart phone to increase its functionality. By having an app for your business, you can make information about your services more accessible and interact with your market more than previously possible. Some businesses use apps to simply create a mini website that can be accessed via smart phone. While this is a good start, it's a mistake to leave your app marketing at that. There's so much more an app can do. Let's take a look at some of the ways you can increase your business and revenue through a smart phone app.
Get more customers with a custom smart phone app
— If you have good content available through your app, people interested in that content will download your app to gain access to the content. Once they've downloaded the app, you can use Push notifications and messaging to send them offers or news related to your business.
Good content options include reports, e-books, videos, electronic newsletters, and other information products. Useful information to include in these items can be fitness or nutrition tips, exercise videos, workout routines, etc. Content can also include tools like web-based body fat calculators, calorie counters, or nutrition and exercise journals. If your content is useful and updated frequently, customers will use your app more often, ensuring that they keep it on their phone.
— QR codes are similar to bar codes, but more complex and functional. Most smart phones are equipped for reading QR codes using their built-in cameras. By placing QR codes on your advertising, potentia
l customers with smart phones can instantly access your app and get much more information about your programs and services than you could ever include in a piece of advertising.
With QR codes, your ability to sell your business is no longer limited to what you can fit in a 4-inch ad, postcard or flyer. On your app, you can include detailed information about the services you provide, communicate via video and give prospects the opportunity to subscribe to your blog or newsletter. Plus, once they download your app, you can continue to market to those prospects through messaging.
Your app provides all the versatility of a website, and QR codes allow prospects to access all that information instantly, without having to remember or type in a web address. That means they're more likely to access the information and media you make available and, therefore, increase your chances of making a sale.
— Having your own app can increase response to text messaging advertisements by making more information about a service or promotion available quickly. If you run a campaign with a service like LivingSocial, which partners with businesses to send discount offers to its subscribers via SMS (text) messaging, you can include a link to your app in the offer so prospects can instantly find out more about the offer and the service. Just like using QR codes with print advertising, this strategy increases the likelihood that prospects will take advantage of the offer and position them to receive future communications from you.
— Most apps come equipped with a "share" function that allows users to easily share the app with their friends. Share functions encourage current customers and prospects to share your app and the content they find useful or interesting because it's easy for them to do so. This is the most cost-effective form of marketing because there's no additional cost other than maintaining your app.
Increase Revenue from Existing Customers
— Let customers scan a dedicated QR code whenever they come to your gym, boot camp class, or training session and your app tracks how often they show up or make a purchase. Reward good customers with discounts and coupons that unlock after a certain number of scans. When customers are rewarded, they tend to come back, which ensures continued business for you.

— Advertise additional products and services, like supplements or workout apparel, directly to customers using SMS messaging through your app. You can also use your customer loyalty program and reward customers with coupons or discounts for items you want to promote — customers get to try new products or services at a discounted rate, and you get to sell more products and boost revenue.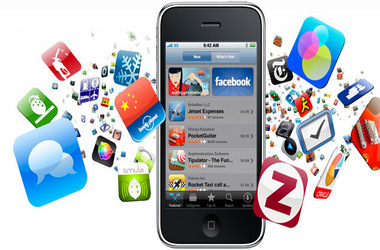 How to Get Your App
Numerous companies on the web offer a variety of app-building services, everything from built-from-scratch custom app services to do-it-yourself systems. However, some services won't h
ave all the functionality you need to make mobile marketing work for your business, and some will have more features and functions than you'll need, which you don't want to pay for.
To ensure that fitness professionals, like yourself, have access to the features they need, along with customization to fit their fitness-oriented business, Nutrifitness has launched FitBizApps. With FitBizApps, you pick out the features and styles you want to include in your app, and we build the app for you.
Take a look at some of the features FitBizApps can include in your customized smart phone app:
Link to your website
List all your classes, programs, services and products, along with detailed descriptions
Add a tab for your blog
Link to your YouTube videos
Integrate with Facebook and Twitter
Include a fan wall for custome r feedback
Tell-a-friend feature lets customers share your app virally
GPS mapping and directions
One-touch calling to contact you immediately
SMS or Push messaging for updates, news and offers
QR code capability
Mailing list compilation
Event listings
Analytics for tracking how many people use your app and how they use it
Much, much more

FitBizApps also guarantees that your app will be accepted by iTunes and the Android app store. This is important because if your app doesn't get accepted by these app stores, your customers won't be able to download and install them. When we turn your app over to you, it's already been tested for acceptance at these app stores, so you'll know you can begin sharing your app with customers and prospects immediately.
To find out more about FitBizApps and how we can help you take advantage of the smart phone boom to raise your revenue through the roof, please visit our website: http://www.fitbizapps.com/