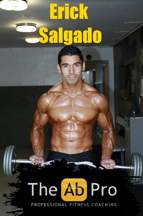 Erick "The Ab Pro" here and I want to talk about how you can leverage your competitive history to help you out shine your competition. If you have not competed in some sort of sport or fitness show, I would recommend doing a few. You will amazing your clients, meet plenty of great people and establish yourself as the trainer that not only talks the talk, but walks the walk.
I have competed numerous times and  often use my competitive experience to set myself apart from my competition. Here are a few ways I use my achievements to distinguish myself and help close a sale.
While discussing our Nutrition Consultation services, I will often refer back to my experiences competing and how it has allowed me to help other reach their goals.
"Now Mrs. Jones, As a National Fitness Model, I know that nutrition can see complicated. Before I decided to compete I read every diet book and fitness article out there and I was still completely confused. I wasted my time and money on in useless diets and supplements. It wasn't until I started working with a diet coach that I really started to get results. I learned that most of what I read in those book or magazines turned out to be nothing more than marketing hype! So you see Mrs. Jones, I want to help you avoid the mistakes I made so you can reach your goal of losing 20 pounds by February."

When prospects arrive early to an assessment, I will often hand them a binder filled with article and interviews that feature me. Some of the articles are printed off of my own site TheAbPro.com and others come from magazines and other fitness sites. As I greet the client, I will hand them the binder and say:
"Mrs. Jones, I just have to finish up really quickly and I will be right with you. While are you are waiting feel free to browse through these article and interviews. This should give you some useful information about fitness and myself."
When I sit down with Mrs. Jones, she already feel comfortable with my because she knows I am well established. Often times she will begins asking me a few questions about what she read and it leads to a smooth transitions as to how I can help her reach her goals.

Why would Mrs. Jones come to you for a great workout over your competitors. Chances are many of your competitors are not going to have the achievements you do and you can use that to leverage your experience. I often tell Mrs. Jones:
"Mrs. Jones many boot camps offer a limited amount of classes are expensive and are more focused on performance over fat loss. Because of my experience as a fitness model, I have learned how to distinguish between a hard exercise and an effective fat burning exercise. Our workouts are specifically designed to get you results."
Now Mrs. Jones feels confident that you know what you are doing and you will not waste her time with ineffective workouts. Your competition will fail to compare and you will look like the go to fitness expert. Try these methods yourself and watch your sales grow.
Erick "The Ab Pro" Salgado