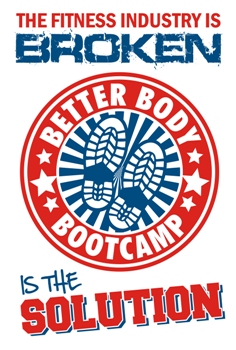 I've been on this site sporadically, but expect to see me on more in the future.  If you need a quick update, I now have an offline bootcamp business, BETTER BODY BOOTCAMP, that has over 200 members and did $33,000 in sales last month (more in contracts), have gotten the business fully outsourced (although I still work a ton in it), and am less than two weeks away from opening my second location (this one is 2,500 square feet).  It hasn't been easy, but it's been hell of a lot of fun.
Although fitness business info that I get from here on Super-Trainer and other high-level small business related info I get through marketing circles has been vital in this process, a lot of lessons that drive me are things I've learned from outside of the business realm.  I want to talk about one of those lessons that rattles in my brain frequently, and it comes from an unlikely source.
For the most part, when I'm working, I don't take my cues from other business people, and even less from fitness business owners.  I find most of them boring.  I take my lessons on work ethic from people like Lil Wayne and Tupac.  Their pace of work and output is the stuff of legend.
When it comes to intensity and growing my business, I think of Michael Jordan and his fire and competitiveness.  About how he looked to have an edge and dominate anyone that stood in his way (and he could get downright nasty when doing it).  What chance do my competitors in the fitness business have when I'm striving for that level of intensity?
And speaking of sports and music, the lesson I want to share now comes from a guy that was big (literally) in both fields in his day – none other than Suge Knight.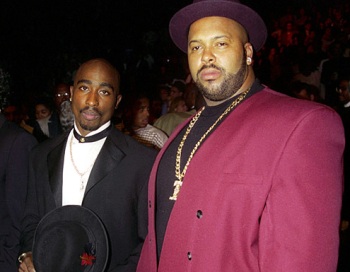 If you remember, Suge is the former CEO of Death Row Records.  Since it's heyday, back when Pac, Dr. Dre, and Snoop were on the label, the company is only a shell of what it used to be.  But when Suge was on top, no one did it like him.  He was the celebrity's celebrity.  I heard from a friend that used to go to a lot of fights, that Suge's name was the first one announced when calling out the stars in attendance.  And if you ever get a chance to ask Sam, he's got a really funny story of the time he hung with Suge.  The man got respect, plain and simple.
I'm not going to recommend modelling Suge's business practices here.  Much of them relied on intimidation, and that's not a solid model that will stand up to the test of time.  For that reason, when you model success that's on the fringes of the law, you have to be extremely selective of what you take.  Anything unethical or lacking in integrity WILL NOT last – plain and simple.
But there's one thing I heard Suge say once that's stuck with me.  He was talking about MC Hammer at the time.
What Suge pointed out was that when Hammer kept it real and made music for the streets, he was embraced by pop culture and became a phenomenon.  But once his pop success got to his head and he started making pop music, he fell, and the fall was extremely fast.
The lesson was that pop culture takes it's cues from the street.  That there are always a few tastemakers that influence the masses.  Even if you have a mass-market product, it has to stand up to the tastes of the taste-makers.  When you loose these select few, you lose them all.
This is something I keep in mind in how I plan my bootcamp.  Over here at BBB, we don't cater to athletes or special populations
 You could say we're pop, as we cater mostly to Moms and Pops.  But don't for a second think we have a watered down product because of it.
Yes it's true – the "regular" folks (for lack of a better word) wouldn't know if watered down our training.  They wouldn't know if we didn't carefully plan our workouts.  But we still take the time to pay attention to the details.  We keep everything top notch, from the attitude, the environment, to the decor, and most of all the training.
We design our business as something that would appeal to even the most picky, demanding customers.  That satisfies clients in
even the most outstanding shape, that have tried everything else out there.
Even though we're the most affordable bootcamp around, we design the product as if price wasn't an object.
Why do we do that?  Because we know that if the product is "real" in every way to the most selective groups of clientelle, then selling "everyone" on it will be a piece of cake.  And I feel the results to this point have shown that.
The bottom line is we keep it real.  Although these hyper-selective customers might make up only about 1/10 of our total clientele, it's those clients that the rest take their cues from.  They're who we design our product for.
So the lesson from big Suge, and what I'm getting at as well, is you can't have a watered down product.  Your trainers have to be the real deal.  You have to master your craft.  Your place has to be above par.  You need to network.  If you're trying to get out of training and get rich writing clickbank e-books, forget about what I just said.  But if you want longevity and growth in this business, take it seriously.
Hope you guys some value out of that.  In shaping my approach, it's always big picture ideas that play a much bigger role than the individual tactics.  This was one of those ideas, and maybe it'll make a difference for you too.
Keep your heads up people.  Aim for the absolute top – even if you fall way short, it's still pretty damn good.  Talk at you soon.
Kaiser "Super" Serajuddin
Original Super Trainer
www.GoHardFitness.com