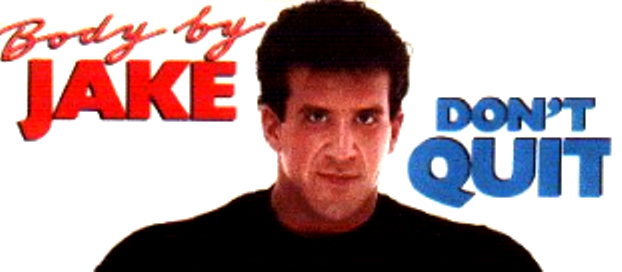 True, I've had some big names on this blog – everyone from Jennifer Lopez' , Tyra Banks', and 50 Cent's Personal Trainers, all for LIVE interviews, and most have contacted me for the privilege (lol) of sharing their knowledge on the top online fitness marketing blog in the world (yes, that's Alexa verified).
So I shouldn't be excited about the guy who I'm going to be profiling now, especially since he's not even here for a live interview (I'll get working on that), but it's hard not to be.  Not only is one of the originators of the training business – he's taken the natural finesse, hustle, and street smarts that defines a Top-Level Trainer and parlayed it into mega-millions, and he's not slowing down yet.
It's Jake Steinfeld, aka BODY-BY-JAKE.  I remember flipping through Jake's book a few years ago at a Barnes and Noble, but when I went into his history for this blog post, I was blown away by what I found.  When you read the progression and sheer DOLLAR FIGURES that Jake has behind him, you'll be speechless too.

Here's the whole post – check it out:
——————————————————————————-
Jake Steinfeld, born on February 21, 1958, is an American actor and the most well known personal trainer of all time. He is regarded by many as the father of personal training and is responsible for creating the personal training industry more than 30 years ago.
Jake Steinfeld moved to Los Angeles from Brooklyn, NY with the goal to win the Mr. America Competition. However, when he came in second in the Mr. Southern California competition he realized that he most likely wouldn't achieve his goal. His friends had predicted that he would be back in six months and had no chance of making it big in the City of Angels. But, Jake was not about to give up so easily.
A chance meeting with a small time movie actress gave rise to Jake Steinfeld the personal trainer. He would soon go on to training some of biggest names in the movie business which included Steven Spielberg and Harrison Ford.
In 1990, Jake soon realized that he was sitting on potential goldmine of opportunities and he just had to do something to exploit his success as a personal trainer. His unrelenting quest for success gave birth to Body-by-Jake, one of the most successful fitness products businesses with positive feedback from more than 2.5 million happy customers.
However, it was not all easy going. The road from being a highly paid personal trainer to a global business leader was fraught with mistakes and skepticism. Body-by-Jake was met with an equal does of enthusiasm and skepticism.  A the time he launched his brand, the economy was just entering into a recession and people were more interested in staying afloat than giving a new idea a go. Soon out of money, Jake could either throw in the towel or he could give this another shot somehow.
His wife being his biggest supporter, urged him to take a second mortgage on their recently purchased home to pursue his dream. This time around, Jake decided to take another look at his business model. He realized he was making mistakes and needed to target a wider audience. That's why even though he personally considered infomercials as being cheesy, he decided to take the plunge. There was no looking back after that, and the tank for Jake was slowly moving from 'E' to the full mark.
A self confessed street-smart entrepreneur, Jake continues to develop successful products, brands, and businesses as Chairman and CEO of Body by Jake Global®. He entered the realm of web based businesses with the creation of Global Fitness Media®, the entity behind websites such as FitPlanet®, and Good Food Near You®. One of his most successful ventures included FIT TV, which he sold to Fox Network's Rupert Murdock for $500 million in 1997. Another multi-media innovation of Jake's was the launch of ExerciseTV®, the first fitness on-demand television network, with partners Comcast®, New Balance®, and Time Warner®. Jake also helped found Major League Lacrosse®, which indirectly fetched him sales worth $600 million for his Body by Jake brand.
Not to be left behind in the fitness publishing domain, Jake's latest book, "I've Seen a Lot of Famous People Naked and They've Got Nothing on You!" was a New York Times® business bestseller and Wall Street Journal® best seller.
Jake did his bit for the society by creating "Don't Quit! Foundation" to support and educate youth about the value of physical fitness by providing state of the art fitness centers for schools. Jake was also appointed to serve as Chairman of California Governor's Council on Physical Fitness and Sports by Governor Schwarzenegger (another fitness trainer turned entrepreneur – hint-). His goal was to inspire kids to have a 'Don't Quit' attitude and be more active.
His TV appearances included Body by Jake TV show and a bunch of other small roles in different sitcoms. He also lent his to voice Git, a lab rat in the latest Disney animated feature Ratatouille.
——————————————————————————-
What an amazing story, and what an amazing ride!  What did you think of that?  Leave your comments below.

And remember this is only PART 2 of the special five part series on trainers turned entrepreneurs.  There's some more amazing people so stay tuned.