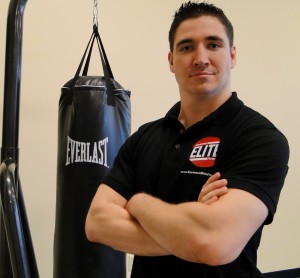 Hey Super Trainers,
This is Chris Jarvis owner of Elite Fitness in Sycamore, Illinois.
I wanted to share with you a little bit about what I learned on my VIP day(s)…
The first thing I noticed when I walked into Fitness Concepts was the energy of the place. It was 4:50am, but the place was packed and everyone was all smiles and getting each other pumped to workout.
I immediately noticed a few things different about Sam's place than the many others that I've been to. A few things that jumped out right away that I really liked…
-Everyone who came in, including staff, put on a name tag. In a lot of Boot Camps, the newer clients or people on trials don't know anyone and nobody knows who they are just yet. This simple trick took care of that problem, especially with the amount of people that workout there. This is something I'm going to implement immediately.
-Social proof, social proof, and more social proof. If you've seen the inside of Fitness Concepts you know what I mean. You can't miss the HUGE posters on the walls of the before/after's of his success stories.
There are even more in the hallway leading to workout area that are smaller and have a bio with them. As soon as you walk in, it's clear this place gets results. And, there's a gigantic sign right when you walk in that says you can get a free shirt for checking in on FaceBook 25 times, bringing even more social proof online.
-Results oriented message. Sam has awesome signs all over the place that clearly tell you that you are either here to work hard, get results, and be positive, or you won't be here for very long (I got the pleasure of seeing Sam personally remove a client for being negative, haha).
These things were all abundantly clear within the first minute of walking in. I hadn't even seen Sam yet, but I was already taking notes. These seem like simple things, but Sam took them to another level and it was clearly working.
Once Sam came in, we went and worked out while I observed the overall set up of his place and how his boot camp was ran. We talked for almost an hour about how he runs his business.
I was really blown away at how simple he has made it to run his business. I have a fraction of the clients and trainers he has, yet it is much more time consuming and complicated for me to run my business than it is for Sam. Sam gave me some great tips on how to simplify everything, and now I just need to apply it.
The next thing we went through was how Sam is marketing his business right now. He showed me exactly what is working for him, and actually took me step-by-step through the process of how he does it.
Once again, it was much less time consuming than what I'm doing now, and clearly more effective. He showed me where I'm wasting time, and how I can do a better job with what's really working. He even gave me the exact emails he uses to sell out all the programs that he runs.
While we went to get food, we discussed what was needed to look into opening a 2nd (or 5th and 6th as in Sams's case) location, since this has recently become an option for me.
He went into detail about what he looks for when negotiating a lease, what equipment he initially buys, and the actual kind of building and space he wants. A lot of great info that really helped me figure out what I need to do.
Back at Sam's place (after driving around in his bad-ass car), we sat down and Sam gave me an action plan of 10 things I need to do ASAP at my facility to start making big changes. This was probably the most important thing of the day, as I now have an exact plan to start blowing up my business, and Sam went through each point further detailing how to do it. This alone was worth the trip.
We then went through how Sam handles his business systems when it comes to contracts, scheduling sessions, paying trainers, emailing his list, etc. I was again surprised at how simple he manages everything considering how many people he has there and how many different programs he runs. He's really figured out how to keep everything running smoothly.
I can't finish talking about Fitness Concepts without mentioning the personality Sam and his staff have brought there. I've never seen people have so much fun and yet still get the amazing results they get there.
I especially like how Sam has it written in the contract for his clients that you must have a sense of humor and be able to take a joke in order to workout there. It's the truth, they all rip on each other constantly (staff to clients and vice versa), but it's all done in fun and everyone loves it.
Sam has really made his place his own, and it's become the 2nd home to all his clients and staff.
I learned a ton from visiting with Sam, and I definitely plan to do it again. Sam was even gracious enough to bring me back in a couple more days to workout with him and see his facility in action some more since I was staying in Cali for a few more days.
Thanks Sam! Really appreciate it man, keep kickin ass.
-Chris Jarvis
PS- I'm already working on my strength so you don't blow me away in those workouts again, haha
***************************************
If you're interested in booking a VIP day with Sam please email his right hand man XavierRSanchez@gmail.com