Nothing has helped me more in the past few years in business than calling it like I see it.
Yes…
That means calling out client AND prospects when they give me some lame BS excuse as to why they can't start or why they are not getting results.
Not only it has it helped my business's culture by helping me differentiate and attract the kind if clients that I want and repel the clients that I don't want…..
But more importantly it has helped my "well being" which to me it's the mother of all success.
Let me explain.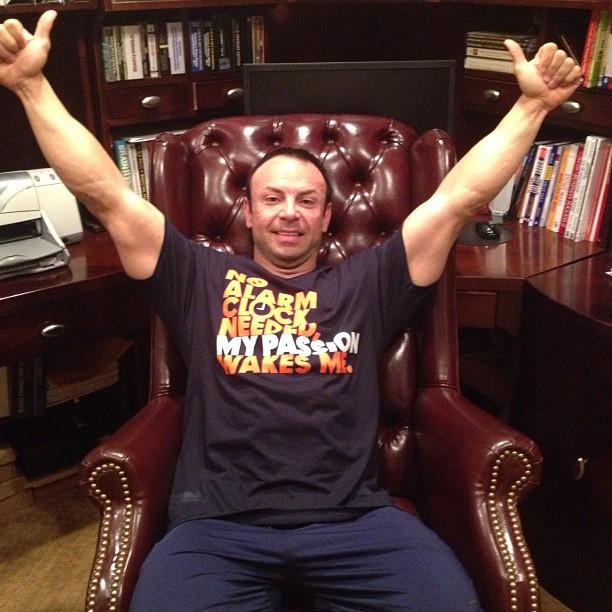 Above and beyond all the monetary reasons, YOU must feel good about your business.
After all your business is YOUR baby. You got to make sure that your baby is growing according to YOUR core values and your belief system.
And sometimes that's NOT necessarily the same thing as maximizing profits short term.
But when you stand for something in your business, you will automatically align yourself with more people that see the world as you do.
At the same time when you take a stand, be ready for criticism and backlash.
And that's quite OK.
"YOU HAVE ENEMIES GOOD, THAT MEANS YOU STOOD UP FOR SOMETHING, SOMETIME IN YOUR LIFE"
EXAMPLE: Truett Cathy the founder of Chick Fila is a devoted Christian. He insists that all his locations must be closed on Sundays. And they are.
Is he MAXIMIZING profits? NO
Has he build a HUGE christian LOYAL following. ABSOLUTELY.
FACT: PEOPLE ARE MORE LIKELY TO DO BUSINESS WITH PEOPLE OR COMPANIES THAT SHARE THE SAME VALUES.
FACT: PEOPLE LIKE DOING BUSINESS WITH PEOPLE NOT COMPANIES.
(That's why we have Jared from Subway, Jack from Jack in the box and the good o'l Ronald McDonald)
"IF YOU DON'T PISS SOMEONE OFF BY 12PM NOON, YOU AIN'T DOING ENOUGH"
I have said this before and will say it again….
YOU CAN'T WORRY ABOUT PLEASING EVERYBODY IN LIFE.
YOU DO WHAT YOU DO AND YOU DON'T WHAT YOU DON'T.
Will you alienate some potential prospects and customers.
ABSOLUTELY….
But at the same time, you're building a stronger bond with your current clients and prospects that "see things like you do"
AGAIN LIKE TRUETT CATHY
And to be honest….
You probably wouldn't want that person in your business.
(unless you're willing to throw your values down the drain for the all mighty dollar)
FACT: BUSINESS VIABILITY IS NOT MEASURED BY THE NUMBER OF CUSTOMERS A BUSINESS SERVES. IT'S MEASURED BY THE NUMBER OF LOYAL CUSTOMERS IT SERVES.
Loyal customers are customers that are price independent, location independent and love your business because of what it represents. PERIOD
Let me give you a few recent episodes of what I am talking about. (Case studies)
CASE STUDY #1:
While I was giving a presentation for our 6 week challenge that starts on 2/24 a lady raised her hand and said "when is the next challenge after this start? I SAID MA'AM IT STARTS APRIL 14TH. She then said "Can I come sometime between February 24th and April 14th to pay for it" I REPLIED "MA'AM WITH ALL DUE RESPECT GIBE THAT BS EXCUSE TO SOMEONE ELSE. WE ALL KNOW THAT ONCE YOU LEAVE HERE THE CHANCES OF YOU RETURNING IS SLIM TO NONE. SO IF YOU'RE REALLY SERIOUS OUT A DEPOSIT AND MAKE A COMMITMENT. HOW MANY TIMES IN THE PAST HAVE YOU SAID THATAND NEVER FOLLOWED THROUGH. I BET MANY.
RESULTS: She signed up for the earlier 2/24 challenge and paid in full.
Note: My partners all hide of embarrassment when I confront someone publicly on their BS.
CASE STUDY #2:
In our Fontana location after giving a presentation and people rushing to sign up, I noticed a lady in the front sitting and just looking at the 6 week agreement.She wasn't reading it. She was just starring at it for what it seemed like eternity. I walked up to her and said "MA'AM BY STARRING AT IT YOU'RE NOT GOING TO GET IN SHAPE. IF YOU DON'T KNOW HOW TO WRITE YOUR NAME I WILL BE MORE THAN HAPPY TO HELP YOU WRITE IT DOWN" She smiled and said you know you're right I have been procrastinating long enough I need to do this.
Results: She signed up
Case study #3:
In our Murrieta/Temecula location a lady raised her hand and asked "do you have an a location in Murrieta" I RESPONDED MA'AM WE ARE IN MURRIETA" She then said "something closer to my house" I RESPONDED SO LIKE OPENING A LOCATION IN YOUR LIVING ROOM? I PROCEEDED AND SAID I BET YOU HAVE PURCHASED EXERCISE EQUIPMENT THAT ARE SITTING IN YOUR LIVING ROOM HOW DID THAT TURN OUT? I AM GUESSING NOT TOO GOOD BECAUSE YOU'RE HERE.
Results: She also signed up
So don't be afraid to stand for something in your business.
Most businesses FAIL because they are "aight".
The try to attract everybodody and don't really have a CUSTOMER AVATAR.
Sam,