[jbox color="blue" vgradient="#fdfeff|#bae3ff" border="5″ radius="5″ shadow="5″]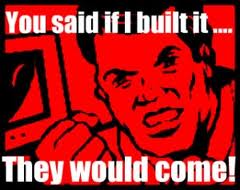 The days of "Build it and they will come" is over.
It's been over.
Today's consumers are much, much smarter than that.
Today's consumer wants the results not empty promises.
So talk their language.
Don't talk about how eating 30g of dextrose with 30g of whey post workout has been proven to increase protein synthesis and how the extra carbs are partitioned into muscle preferentially because the insulogenic response brings GLUT-4 transporters to the edge of cells to mediate protein delivery rather than being converted to fat for storage.
NO ONE CARES.
THEY PAY YOU TO KNOW THAT.
They trust you to have done the research and just tell them what to do.
Their lives are complicated enough. They need simplicity.
Know your craft so good that you can explain and teach them in layman terms.
DO NOT listen to charlatan fitness marketers that tell you "don't worry about the craft, just drive traffic"
What good is traffic if the average client stays with you two months.
At a certain time the "the rubber has to meet the road".
The best in the ANY industry always are on the CUTTING EDGE.
ALWAYS BE A STUDENT OF YOUR CRAFT.
Know your business, it's what you're being paid to do.
So if you don't have a sound product/service, then take a steps or two back and make sure you have that dialed in before you start going crazy on "the traffic"
Sam
PS – I am not saying that marketing is bad. Not at all. I am however saying that old marketing has completely changed in the past few years and will keep changing at a rapid pace. One thing that remains constant and will always remain is "your core competence".
[jbutton icon="yes" size="medium" link="https://super-trainer.com/fitness-marketing-resources/" newpage="yes"]==> Checkout These Resources For Your Fitness Business[/jbutton]
[/jbox]