Hey, Jeff Sherman here, Co-Creator of Boot Camp Underground and Super-Trainer advisor. Today I am going to share with you how to build a Real Business and how you can use this information to grow your fitness business the right way.
Most of us get into the fitness business because we were tired of giving all of our money to the big chain gyms. With the low cost of entry every trainer and their brother want to open their own studio or boot camp. Almost every trainer I know claims to have their own business. Really, all they are is an independent contractor at someone else's studio.
The problem is they don't own a business, they own a job. They have no employees or assistants. If they take a vacation it cost them double. The cost of the vacation plus the cost of the missed sessions amounts to one expensive trip.
Most trainers look at training as a hobby. It's a great part time job. I don't know of any other part time job that you can make $50 -$70 an hour.
I started out this way and made a lot of mistakes. Hopefully you can learn from them and save a lot of time and money building your business.
I spread myself too thin. Don't get caught up trying everything under the sun. Just focus on a few things and do them really well.
As soon as I got comfortable, I backed off and never made the kind of money I wanted too. Once you have a breakthrough in your business it is not the time to back off but time to kick it into high gear. Momentum in your business is priceless.
Be really careful who you do business with. I partnered with the wrong person and it cost me a lot of time and money. Don't pick partners that share your strengths. Pick a partner that compliments you and is strong in the areas you are week.
Now, if you want to own a real business there are some things you need to know and implement right away.
Focus on building a business that can operate without you. To do that, you need to create systems for everything. You have to automate your business. It is impossible to replace yourself without systems.
I don't know about you, but for me, this is a lifestyle business. I am focusing on building my business around my life and not my life around my business. I don't want to be a slave to my business.
A real business has employees (independent contractors don't count, IMO).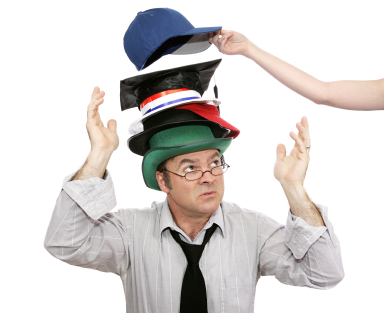 Are you wearing all the hats in your business? Wearing all the hats does not mean that you keep more profits. Install a system to hire the best people and delegate important tasks to generate profits and keep your business going. This was something I struggled with in the beginning. I think as business owners we all have a little control freak in us. The sooner you can let go the faster you can grow your business.
You have to have a vision and keep striving for that vision. It can't be business as usual. The best businesses are always coming up with new products, services and solutions to offer their customers. Focus on adding value to your marketplace. This will help you stand out from all the other gyms.
Quit doing "good" or "ok" and turn up the things that work great! Ask yourself what the best gym in the world looks like and what that owner does and start doing that.
Use the 10 X mind expander exercise to break through plateaus. Just look at your income now. Is it $30,000, $60,000 or $100,000? Then ask yourself what would 10 X that look like? How many employees would you have? What kind of marketing or advertising would you do? How many locations would you have? What would you do? What would your role be? What would have to happen for all of this to be possible?
Next find a Natural and copy them. Take Sam for instance. What does his day look like? What are his tools? What can I learn about his psychology? If you find something that works, copy it. Copy some ones model that you like or that is successful.
Always appreciate where you are right now. This is the key to staying positive and will help you to stay on track and grow your business.
Build passive income.
Develop the right systems.
Remove obstacles in your life.
Find and develop the right people.
And most importantly, remember to build your business around your life and not your life around your business.
That's it for now. Keep up the hard work. Keep believing in your vision even when others don't share or see it.
Talk to you soon,
Jeff Sherman
Fit Body Boot Camp
"Unstoppable Fitness Formula"
P.S. Leave me a comment and let me know what you think, Thanks.