Guest Post By "SEO Ninja" Neil Venketramen of  www.PersonalTrainerMarketDomination.com
Last year Google release their social network called Google +
You may have heard about it. It was supposed to be Google's equivalent of Facebook.
I never paid any attention to G+.
I use Facebook and the thought of using one more social network was too much. There was no more time in the day to do this.
Now this is all beginning to change.
As a consumer you may still not use this and it makes sense if you already using Facebook.
But as a business owner Google has yet again changed the game for us.
Google has now completely got rid of Google Local places listing.
As a quick recap, if you type in your search terms for your local business Google shows websites plus the Google local places results.
And what they have done is now introduced Google+ Local pages.
It is kind of a Google + social network page for businesses.
Google+ Local pages have completely replaced Google Places pages.
According to Google approximately 80 million Google Places pages worldwide has been converted to Google + Local pages.
So if you had a Google local places account you it is no longer there and now replaced with Google+ Local pages.
If not it is all changing over the next week or so.
Here is what you going to see differently in future and need to take into account for your fitness business:
1. No more Google Places page. Now you will see Google+ Local pages
2. Reviews – You will notice below each listing Google is now showing the number of reviews. Some cases it is based on Zagat reviews.
3. Previously Google had star reviews under each Google Local Listing. Google stars will be replaced by the Zagat 30 point rating scale
 4. When you click on a result – I chose Bootcamp Republic, here is what the new Google+ Local Listing looks like
4.1. You can see this is visually better for a client. You clients can navigate different tabs to see your local business listing
5. Reviews
As you can see reviews are extremely important in this new Google+ Local Listing design. Your reviews are now rated and shown by Google. This was different than the previous Google places account
When your Google+ Local Listing site shows up now in Google your customers may make a decision to visit your website or take action based on quality or your reviews and the ratings by Google.
Here is how your customers will write a review for you. It is important going forward that customers who write a review for you ensures the quality is at least three before they submit their review to Google.
Google takes all the reviews summaries and give them an aggregate score and displays their score on the search results.
What Does It Mean For Local Fitness Owners:
The conversion of Google+ Pages is taking place whether you want to convert your pages or not.
If you already have an account you will continue to manage your information in Google Places for Business like before.
Nothing will change there it seems.
If you using adwords express, your account will still operate as normal.
Possible Changes To Google+ Page in the future:
To show you what may change in the future I have taken this example directly from Google's small business blog.
They have worked with a few business to roll out some future changes that not yet available to all of us and I though this visual will give you a better idea.
Here is an example of Extreme Martial Arts School in New York
1. Post Page – here you can make daily posts to your Google + Local account for your business. Notice how they used logo in their banner, Maps, offers and the number of people in their circle.
 2. About Us Page Design – The most important aspect is the ability to leave reviews and your contact information
 3. Photos section – self explanatory but you want to place your best photos with offers and testimonials first as a strategy to drive more targeted leads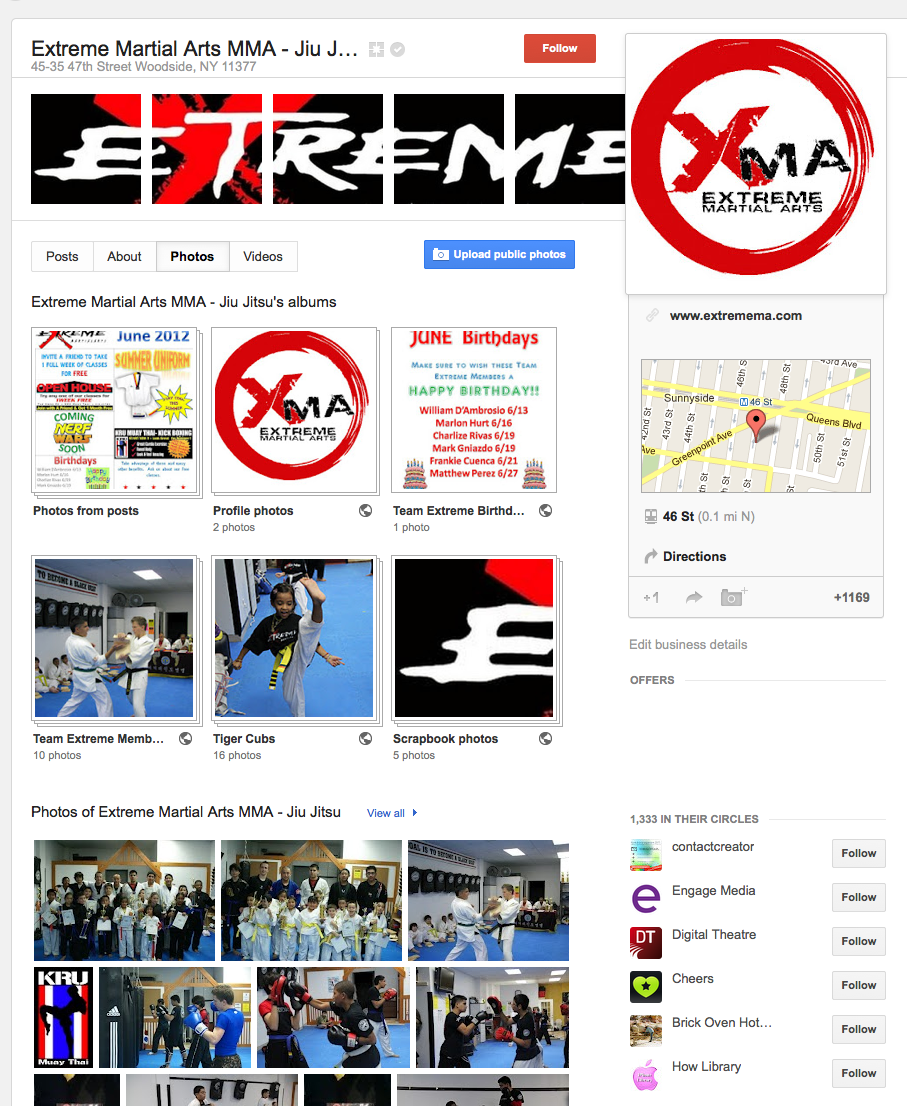 As you can see this is hot of the press and a significant change to Google Local Places pages that has been replaced by Google+ Local pages.
The layout design and I am assuming ranking of these pages may all be different in the months ahead.
If you were ranking on Google local and it dropped or vice versa you know why.
I am doing a significant amount of testing on this area and will be posting updates to this on www.personaltrainermarketdomination.com blog in the weeks ahead.
I would love to get your opinion on this…
Neil