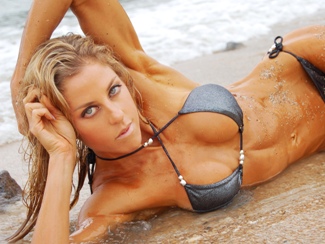 When Kaiser asked me to write a guest article for his Super-Trainer site I headed straight to his home page to check him out ;)  Before I knew it, I had read every single word of his long story.  For someone that gets a blister on her finger from mouse clicking, that is a record.   Why did Kaiser's story get me in?  Simply because it is so real.  As I read it, I found myself thinking back to my own fitness journey and wondering, how did it all happen and how on earth did I go from a conservative, middle aged, unfit executive – to international fitness model, personal trainer, and author?  Yeah, I wake up every day and pinch myself.

For me it all started with my childhood dream of learning to surf.  Oh did I mention I was 37 years old and had never exercised in my life?  And to answer your question, yes it took me 6 months before I was even able to paddle "out the back" to even try to catch a wave.  And then another 6 months before I could say I was "a surfer".   So anyway, freedom starts with your dream.  Not someone else's dream, not other people's expectations and not what you "should" be doing.
Next it takes balls, excuse the French.  Courage.  You have to take some risks.  Get out of your comfort zone.  For me that was quitting my job and taking my backpack and surfboard and travelling Central America – at an age when most people are trying to pay off their mortgage and starting to plan for retirement.  It was a huge risk.  The return was that I discovered I never wanted to have to work in an office 9-5 ever again, and ideally, never have to put a suit, stockings and high heeled shoes, unless I wanted to!   That realization drove me to search for what I call freedom.  Being your own boss, doing things your way and answering only to your customers.
Now if you are like I was, I had long idolized business owners and entrepreneurs but had convinced myself I just wasn't cut out for it.  Wrong.  I just hadn't found my niche, my passion – what would drive me to do whatever it takes to succeed.  But that was just around the corner.
Enter opportunity.  My father always said luck is preparation meets opportunity.  In other words, there is no luck – just hard work and then being able to seize the opportunity when it arises.  And it will.  So keep your eyes open and watch for the sign posts. Sign posts are the signals to follow that new road to freedom.  But often we get so caught up in our everyday routine, responsibilities and plans that we miss it.  So slow down.  You are here on Kaiser's site for a reason.  Take notice!
My sign post was a few random photos my sister took on our beach holiday and her off hand comment – "you should try some fitness modeling".  I was 44 and I laughed thinking, I know you are my sister and I know you love me, but do you know how old I am?  Well, it turned out, if you put the hard work in and have the body, no one really cares how old you are – in fact, it's inspirational!  So, once you see your sign post, ignore the negatives and take your first steps to freedom.
So, how did I arrive here today, an internationally published fitness model, a professional health and fitness author, personal trainer and online business owner?  By making sure every step I took on my new journey was done with 150% dedication to quality and determination to do whatever it takes – so I would never have to go back to the 9-5 executive world again.
I am a relative newbie to the fitness world but reading Kaiser's post made me realize that the principles for success are the same no matter what you do.
There is no free lunch:  success is earned so be willing to pay the price.  You have to put the hard yards in initially, but that doesn't mean forever.
Never stop learning: you will grow old quickly.  Be willing to try new things, be willing to change.  Be willing to listen.
Never delegate or outsource something unless you completely understand what is required:  recipe for trouble.
Spend time and money building relationships and surround yourself with competent reliable people.  They will become your foundation to success.
Listen to people who have achieved what you want to.
And now to my latest challenge, the launch of my Get Lean Program.  Six months ago I had no idea about how to write, let alone sell, an online e-program.  But my drive for freedom pushed me forward and step by step using some of the principles I mention above, I created and have just completed my first major product launch (very successfully).
Now to the interesting part.  Who made the most money out of it?  My affiliates, people just like you.  In particular those offering online customized personal training and nutrition plans.  Why?  Because Get Lean is a high quality alternative to writing a custom plan and easily plugs into your sales process as an add-on sale or as a follow-up sale once your client has completed their program.  It's complimentary and not competing with what you are doing.

I wish I could share more about my personal training experiences here in Panamá and how helping people change their bodies also changes their lives – but I am sure you know how that feels.  But although I love training, my next goal is not to have to get up at 4.30am 5 days a week – and after reading through some of the articles on here, I have a feeling that day is not too far away!
ps. thanks for reading every word of my long story ;)
————————————————————————–

Hey gang – Kaiser here.
If Belinda's story from overworked exec to fitness industry star doesn't get you excited, I don't know what will.  She's a tremendous woman that represents everything Super-Trainer is about: using fitness as your vehicle to free yourself from work as usual, and achieve your own personal and financial goals, no matter how ambitious they may be.
If you want to see a little bit of video of Belinda in action, you can check her out right here:
[youtube YxAo3VkT0Os&feature nolink]

And besides Belinda's body, her program too couldn't look any better.  Check it out here: http://www.getleanprogram.com/.
With her story, it basically sells itself.  To find out how to become an affiliate and promote the program to your customers and email list (and make some basically free money), go here: http://www.getleanprogram.com/affiliates.html.
The way it works is very simple – just sign up at clickbank.com and you'll be able to get an affiliate link to Belinda's program.  Then, once you recommend her program to your email list, you'll get paid for anyone that takes you up on it.  It's a win for everyone involved.
If you want to execute a more planned release to your email list to get the best possible response, you can contact Belinda directly atbelinda[at]belindabenn.com.
And to learn more about her go to the website of fitness model and personal trainer Belinda Benn at www.belindabenn.com.