A BIG PART OF FINANCIAL FREEDOM IS HAVING YOUR HEART AND MIND FREE FROM WORRY ABOUT
THE WHAT-IFS OF LIFE. – SUZE ORMAN
Over the last year, I've cut up credit cards and closed bank accounts. Why? Because they were clearly trying to nickel-and-dime me. I'm pretty good about paying my bills ahead of time to avoid surcharges, yet there they were, on my bill, in black and white. Suddenly my bank was charging added fees for paper statements, savings balances under $1,000 and for checking my balance. I started to feel paranoid. Why was everyone trying to screw with me? Even at the grocery store, airheaded clerks would just forget to give me my change. When I was getting an oil change, the clerk accidentally overcharged me. I was living my life in fear, suspicious of everyone and everything. Then I realized: that's no way to live!

I found that my fear and paranoia went beyond just money matters. There was a pervasive negativity that undermined other aspects of my life. Perhaps you find this is true in your life too.
Some guy cuts you off and you assume he did it on purpose – to assert his dominance on the road. In reality, he may not have even seen you in his blind spot or realized you were so close.
Your wife doesn't have dinner ready when you get home, even though you told her it was a killer day at work. You assume she is being intentionally callous and selfish. Yet, maybe her day was as hectic as yours.
Maybe you feel down about your number of clients and you fear your business model is falling apart.  Yet, it's possible you're just not reaching the right people and a willing market is waiting for you at this very moment.

To remedy my situation and let go of unnecessary stress, I took the sage-like words of advice from Suze Orman when she said, "Stay with gratitude, not envy, regret, and anger." She even went so far as to say you should pay your monthly bills with gratitude. Instead of thinking "Geez I gotta pay all this money," you might say, "I'm glad I don't have to collect my own water in a dirty pond where people are bathing and washing dishes. I'm glad I have electricity powering my air conditioner and electronic devices 24/7,
rather than intermittent coverage. I'm glad I don't have to take my own trash to the dump."
Now, it may not come natural to be gracious when a guy cuts you off, your wife doesn't have dinner ready or your clients are dwindling, but you'll find it's really freeing once you try. I'm glad I have a car that is in good repair. I'm glad I have a wife and can afford to eat the dinner of my choosing. I'm gracious that I have any clients at all in this competitive industry.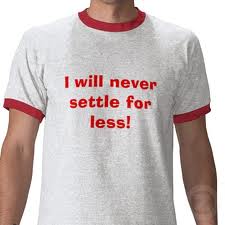 The problem with gratitude for some people is that they take this advice as a cue to settle for less. Just because you're gracious for the clients you have, doesn't mean you should stop working to acquire more, for instance. Don't settle for mediocrity, but do take a fresh approach to life and begin to dwell on the positive. You'll find that your life is full of abundance when you are gracious.