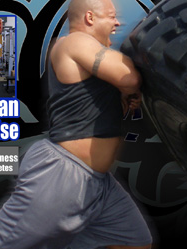 It's funny what you can do on the web these days …
What I mean is that as a trainer, there are a lot of ways the web can serve you.

You can of course get personal training clients on the web.  Then through your site you can bond with them before they meet you.
You can learn about training …
You can provide fitness information on the web …

And from what I recently witnessed, you can have a virtual strong man smack-down on the web.
That's what happened between Elliott Hulse and Zach Even-esch for the launch of Elliott's new training product, LEAN HYBRID MUSLCE.
Now if you feel like we've gone into comic book geek territory, please know that Elliott is one of the most active guys in the fitness industry today.
He's a guy with firm roots in real world sports excellence (as a former college football player and current strong man competitor), and has translated that into a thriving training business and budding online empire.
He exemplifies everything Super-Trainer is about, so I of course had to have him on the blog.
And what came out was an interview about his roots in fitness, the steps he took to go from exploited health-clucb trainer to running his own small practice, and how his business has made some amazing strides as of late.

Here's the full interview below.  Just click the button and it will play immediately.  If you want to dowload it for play on your iPod, just right click it and select SAVE LINK AS:
Elliott Hulse Interview on Super-Trainer

Elliot is one of those guys that you're glad is in the fitness industry.  He really has taken all of the tools and information that are now available to modern trainers and has applied them all at a high level in his fitness business.

So in case you didn't notice, this fitness thing is for real – time to get your success story started.