I honestly think that as humans we tend to complicate things more than necessary.
That's no different with fitness pros and their businesses.
Most fitness pros are getting burnt out NOT because they are training too many clients BUT because they have made a simple business into a complex one with way too many moving parts.
I learned a long time ago that more moving parts = more headaches.
Now I don't know where you are in your business and life.
But…
For me, I like to keep things simple, fun and effective.
As long as I am having fun, feel good about my product/services, making a difference and increasing my bottom line I am good to go.
(I have to have ALL the factors above in place)
When fitness pro's come to visit me for a VIP day, they simply can't believe how busy we really are. Our chino location alone has close to 600 PAYING members.
(We now have 5 locations and 2 more in negotiations.)
They also can't believe how SIMPLE my business and life really is.
They are in awe when they see the kind of results we get our clients and more importantly the culture and "fun factor" of our business and life in general.
(In our 6 week weight loss challenge 78% of our clients lose 20lb or more and 98% lose 10lb or more)
Life is way too short to be in a relationship (your business) that you don't thoroughly enjoy.
After years of being in the trenches I have decided to go "against the grain" on pretty much ALL industry so called standards.
I stopped listening to gurus who never owned a real fitness business.
The only way to really learn is real world and in the trenches.
The only way to run your business is YOUR way.
It's time for you to really sit down and reevaluate where your business and life is going?
Do you really and I mean REALLY enjoy your business?
Do you really have a business or did you just buy yourself a job?
Can you sustain what you're currently doing the next 5 or 10 years?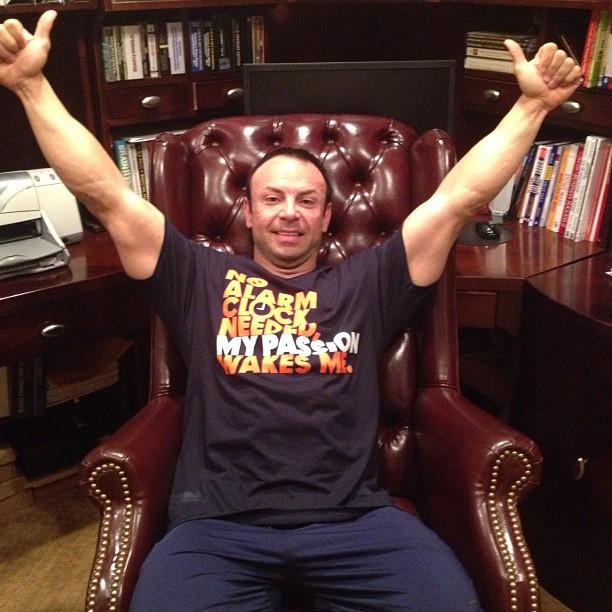 If you're not 100% happy with your business I want to invite you to come to my office for a VIP day.
We will spend an entire day dissecting and simplifying your business.
I will teach you my EXACT methods for productivity.
I will also give you swipe files of all the prelaunch and launch emails I have personally used to drive massive amounts of traffic to me "niche" programs.
I will also evaluate all your "lead" funnels, tweak them and make new ones so that you'll never EVER have to worry about your next client.
Looking forward seeing, hanging with you and helping you create a fun and profitable business.
Sam,
PS – Oh yeah almost forgot to schedule a VIP day simply email my right hand man XavierRsanchez@gmail.com