Hey Super-Trainers, Here is a nice guest blog post by my man Cory Beasley from Tribal Training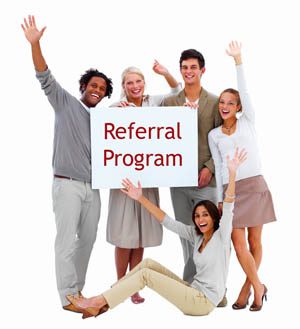 As you have probably read, referrals are the #1 source of new clients for trainers. Developing a steady flow of referrals comes from delivering a kick ass service, but they can also come from a network of people that know you, trust you and want to refer business your way.
It is human nature to be selfish. When we look at a group picture, we always look for ourselves first, right? As trainers, our business revolves around our ability to help other people change their habits and improve their fitness. Keeping clients' needs and results in the front of your thoughts is critical. Our success is directly correlated to how many people we help reach their goals. This ability to put other people first works for clients, but also translates to your professional network.
Take a moment and think about your clients (your niche)…
These questions should stir up a list of other people or businesses that are the exact people you need to meet and connect with. I call these complimentary businesses that are involved with the same people you deal with everyday. If you are looking to expand in your niche, then connecting with these people is very important.

What do you say?
Well, initially, you are just looking to open the line of communication by introducing yourself and showing interest in their business, Do NOT talk about yourself the whole time. The goal here is to get them talking about themselves, their business and to see if they are receptive to meeting.
Here are a couple samples for you:
"Hi Joe, my client Sara has been to your restaurant and raves about your healthy meals…I own a local gym and am always looking for healthy places to send my clients. Could I swing by this week and check out your place? When are you gonna be around?"
"Hi Dr. Smith, my client Dave told me about how much you helped him recover from his knee injury and I wanted to introduce myself. I own a local strength and conditioning gym and have been looking for a great PT to connect with. I would love to learn more about your practice. Is there a good time to connect?"
If they ask about your training, then you should have a short 30 second summary that explains why you do what you do. Keep this short and sweet. This is not the time to explain the ins and outs of your training systems. Again, you are simply looking to differentiate yourself from the competition and sound professional enough to peak their interest.
What's next?
After the initial phone contact, I always like to meet in person. Usually, I will go visit their place, check it out, learn about them and get a better feel for the person. Again, I let them talk about their business, ask questions and try to figure out who they are, what they are looking to do and how I can help them grow.
By referring a customer to this new contact, it builds trust with them and starts the relationship off on a good note. Think about it…how would you feel if someone you just met referred a person to your gym?
Quick note: I only refer people to someone that truly has a kick ass service or if they can add value to my clients' life. Referring a client to a bad service can make you look bad, so be cautious.
After I visit them, I then invite them over to my place. I always want people to experience our gym, our service and the training that we provide for our customers. I always explain that the best way to learn about our training is to experience it. Once they come, just make sure you are organized and prepared to blow their minds.
They key point here is to add value, help people grow, solve problems and earn people's trust by over delivering. Over time, your willingness to help others will come back around and will create a steady flow of leads, customers and loyal fans.
After 14 years of training people, relationships have been the most consistent lead source I have ever found. Other lead sources may come and go, but people make the world go 'round. The more people that know about your service, love your training and trust you as a person, the faster you'll grow. So, get out there and meet some new people, learn about their business, help them grow and it will come back 10 fold every time.
Corey Beasley owns Innovative Results in Costa Mesa, CA, which specializes in "Unorthodox" training programs for people that are sick and tired of boring gyms and the same old workouts. He trains over 50 Pro Combat Athletes including UFC fighters, Olympic Wrestlers, Pro Boxers, Jiu jitsu fighters, and more.
 Make sure to checkout Tribal Training By Corey Beasley