You've probably heard me refer to Personal Training as this really cool "loop-hole" for fitness enthusiasts.  It's a way to make excellent money and start a tremendous career doing what comes easy to you already, selling a product that doesn't require any inventory, and only takes a handful of clients to achieve it.
Well that goes for the equipment you need to start a training business, whether it be a studio or on-location training practice.  The truth is you can get started, stocked, and outfitted on a shoestring, and actually position that into a SELLING POINT.
That's not pie-in-the-sky talk, "maybe-so" talk, or marketing talk.  It's how I've always trained, run a training business, and made big money from high-priced private to group sessions, and once you get some of the details, it'll make sense to you too.

I know of a trainer out in New York who's booked solid at $300 an hour who doesn't use so much as a jump rope in his workouts, so yes, you can get started on the very, very cheap.  And don't worry, it won't be looked at as an inferior way to train – if you frame it correctly, you can make it look like THE BEST way to train.
OUTFITTING A TRAINING STUDIO

I know it's not just me that's noticed Personal Training has gone very "minimalist" these days.  You can learn this by looking around your local big-box chain gym.  What you'll find today is that the Personal Training areas of these gyms are usually separated from the rest of health-club.  And what you'll find in these training areas are very little traditional gym equipment.  They have only the most basic equipment that can be bought for less then $200 out of a Perform Better catalog.
The lesson here is simple – people are paying premium rates to actually be separated from and NOT have access to any of the expensive gym equipment.  In your own experience, you've probably found yourself taking your clients to a corner of the gym with a just a few dumbells so you could have some privacy.  That underscores the fact that you don't need a lot of equipment to deliver outstanding training sessions.
SAMPLE TOOLS

Even if you were to outfit a full, high-end training studio, you'd be surprised how little equipment you could get away with:
TRX Suspension Trainer, a favorite of IDEA trainer of the year Nicki Anderson at her training studio, starts at only $150. All of Marc Lebert's excellent products, from the Equalizer to the Buddy System, all cost at most $99. Your basic kettlebells vary in price from $15-$50. A complete rubberized dumbell set ranging in weight from five to twenty-five pounds will run you around $99. Resistance tubes – $5.  Jump ropes – $2.  You get the picture – you can fully outfit ever corner of a studio for about $500.  And if you spend that much, your clients may be asking you why you have SO MUCH stuff.

HOME-GYM
This also works in your favor if you're looking to start a home training studio.  To explore that scenario, let's look at this question from a reader of the blog and TLT owner: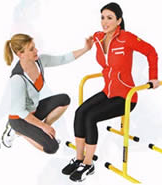 Hi Kaiser, I just recently purchased your Top Level Trainer Manual. So much great info! Thank you so much! My question is: what is your opinion of the best priced and best quality home gym? I am newly certified and am planning on training at my home. Besides a home gym, what other equipment would you recommend purchasing? My funds are very limited right now; but have to start somewhere. – Kaye

For some reason, the idea of the home gym has always appealed to me.  I think for certain personality types, with certain lifestyles and family responsibilities, being at home really works.  It's probably a type of home-based business that's not looked at often, but for someone that love fitness, the potential is definitely there.
When you think of putting back the PERSONAL into Personal Training, it's a very viable option – what's more personal than having someone come to your house.  Again, I think it's only suitable for certain personality types, but if it's something that will work for you and your lifestyle, go for it.

I've never done it, but I know of several trainers that do a very good job with it, including Lauren Brooks Miller.  I also helped a former client start a thriving private practice out of his garage.  He actually turned it into something amazing and very high end to tailor to the high end clientele in his area, and he hit it out of the park.  Here's how he did it:
He put rubber flooring on the floors, that can be purchased for about $500.  He also had the walls lined in a very nice black wood surface – $500.  He had a mural of the famous Charles Atlas ad painted on the well – it was amazing and very, very cool – $500.  He had a bench and 250 pounds in weights that he got from CRAIGSLIST  – $150. He got a BOWFLEX weight set – $350
As you can see, he went a little on the expensive side, with the total tab running up to over $2,000.   If you're starting from scratch, you might not have this much money to play with.  The good news is you don't have to go that far to create and outfit a space that serves your purposes nicely.
And the fact that he used CRAIGSLIST to acquire the most expensive equipment in his gym should be a lesson.  I happen to know that Zach Even-Esch got a lot of his equipment from there, and saved a ton of money doing it.
What's the take home lesson from all of this?  That another benefit of training is that you can get started very inexpensively, and not have it looked at as a negative or inferior way to train in any way.  It just takes some creativity, flair, and resourcefulness, but you can get everything you need to deliver high priced sessions, even on a shoestring budget.
————————————————————–
Want more info on some cool and UNCOMMON ways to train?  Then check these out:
10/03/200 – Lauren Brooks Miller's Personal Training Business
2/03/2009 – Wild Man Zach Even-Esch
7/31/2008 – On-Location Personal Training Explored
What do you think?  Leave your comments below: