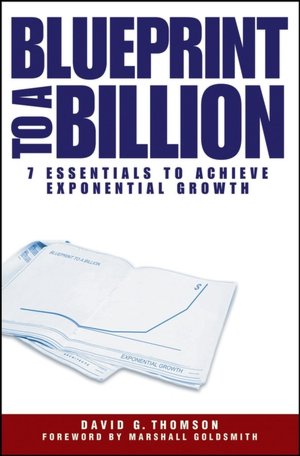 The real value of this book is not the interesting stories, thorough analysis, and great suggestions.  The real value lies in what we do with what we learn.  Marshall Goldsmith is a world-renowned executive and coach, top 50 great thinkers and business leader in the past 50 years.  Execution of the 7 essentials will enable your company to achieve exponential growth.  The odds are one in 50 that an idea becomes a business, one in 20 that a funded business sees an initial public offering (IPO) and, finally, one in 20 that a public company achieves $1 billion in revenue.  Every company can invest, even overinvest, to grow.  However, not every company can create revenue growth.
This book identifies the common essentials exhibited across Blueprint Companies in all industries; it is not about the lessons learned from one or even a few successful companies within one industry.  Here we want to discover the roadmap to $1 billion revenue, not $1 billion market value.  Information Technology accounted for only 18 percent of the Blueprint Companies as shown in (Fig 1.5 Pg9).  The Essentials Triangle (Fig. 1.8 Pg. 12):  Create and Sustain a Breakthrough Value Proposition-Exploit a High Growth Market Segment-Marquee Customers Shape the Revenue Powerhouse-**(Marquee Customers-Customers who shape the company by testing and deploying the product, recommending the company to their peers, and simply providing exponential revenue growth on a per-customer basis.  Think of these customers as one of the company's most important assets.)-Leverage Big Brother Alliances for breaking into new Markets-Become the Masters of Exponential Returns-The Management Team: Inside-Outside Leadership-The Board: Comprised of essential Experts-(Boards Composed of INVESTORS and Management tended to be associated with struggling companies.)
The Elements of a Value Proposition:  What Market segment are you addressing?-Who are your targeted Customers?-What Benefits are you delivering?  Blueprint Companies succeed in delivering both functional and emotional benefits.  Create a breakthrough innovation that addresses a huge unmet need in a very unique way.  Ask the customer "If we give you this, is this, what you want to buy"?  Identify a market that is growing and one with adequate margin structure built in so, with a more efficient value chain, you have a cost and price advantage.  Finally find a market where customers are undeserved.  Companies need to be explicit about their value proposition.  Why?  The execution of the essentials depends on this choice.  Blueprint Companies deliver more than functional benefits.  They deliver intangible benefits; benefits with high emotional value.   To gain customer permission, think of this as building a house.  The attributes are the foundation, the functional benefits serve as the frame, and the emotional benefits act as the roof.  Customers want to live in your company's whole house, but only if it is built correctly.  When a customer wants to live in a whole house, you have permission to add and extend to that house.  Using a blueprint can help you build the right kind of house.  When you sit with a customer, they tell you what they want.  What they want is pretty basic: a good positive relationship, a good positive experience, and their phone calls returned.  The most successful companies exhibit a process and culture for staying close to their customers.  They clearly understand their customer's unmet needs.  They priced to value.  Do you sell to customers or do customers sell for you?  How do companies achieve exponential growth?  It is about securing deep relationships with a limited number of valued customers who become the rising tide for exponential revenue growth.
Marquee Customers help companies in three ways: Product Consumer: They test and deploy a product.  Value Proposition Shaper: They co-develop the value proposition. Lighthouse Reference: They serve as a reference and sell to peers.  Marquee Customers fundamentally help the management team shape the business.  Therefore the choice of which customers to sell to is critical to early execution of the company's strategy.  "Word-of-mouth Advertising (Free) Start by securing a customer beachhead, product does not have to be great, it just has to give the company a toehold.
Uncover a latent or unmet need by asking a lot of questions-Identify an innovative solution to that unmet need-Implement a vision A company's business model can be seen and its sales effectiveness measured in its exponential revenue growth with each of its Marquee Customers.  Identifying Marquee Customers should be obvious to the industry knowledgeable executive.  To access Marquee Customers, try to become friends of their friends.  Types of Marquee Customers: First Movers (Cutting Edge of innovation)-Fast Followers (Don't want to be the first over the edge)-Mainstream (Product Proven)-Utilitarians (Slower to adapt than Mainstream).
Customers that partner with suppliers to shape their company and products are Marquee Customers.  They serve a unique and valuable role by: Testing the product and providing requirements feedback, Co-developing a customer-centric value proposition.  Serving as a lighthouse reference that is, as an extension of your sales force, by calling peers and endorsing your product or service.
The best alliances are formed when Big Brothers have a high need and motivation.  When Little Brother is quick and capable of adapting to the Big Brother's needs, it can become the preferred alternative.  Relationships between the companies are as important as the innovation being offered.  If You Can't do it all, Get a Big Brother Alliance.  Alliance pattern unchanged across boom-and-bust economic cycles.    Little Brothers and Big Brother need each other.  For more information on Little Sister/Little Brother-Big Brother alliance, visit (WWW.Magla.com-WWW.baileylicensing.com).   When a small company enters into an alliance relationship with a big company, an asymmetric alliance is structured: a Big Brother-Little Brother alliance.  Asymmetric alliances are more challenging than "typical" alliances.  Therefore, it is important for both parties to be flexible and look out for each other's interests.
Seizing the opportunity to create exponential returns: A business that creates and sustains returns that grew in proportion to exponential revenue growth-A leadership team that can manage all 7 essentials simultaneously-A board of essential experts.
The importance of Return in Invested Capital-Create attractive gross margins early-Contain expenses to achieve 20+ percent EBITDA (Earnings before Interest, Taxes, and Depreciation).  Become cash flow positive early-Utilize incremental gross margins to self-fund incremental investment.   Blueprint Companies earn the right to negotiate a profitable agreement with their customers.
Three Leadership Dimensions of the Inside-Outside Leadership Duo-Focus on relationships and products-Drive to innovate and explore-The ability to manage the 7 essentials simultaneously
"You've got to give people sufficient authority to make mistakes." **Be quick as a problem solver and problems will not linger (SW).   What matters in leadership is not the words hanging on the wall, it is the behavior demonstrated in the hall.  Leaders who lay out a consistent communications plan and vision-and act with upright values even in crisis-are critical to mobilizing an organization into consistent behaviors. (Mark Leslie, VERITAS CEO "I wasn't a great CEO until I realized it was about everybody but me."  Any CEO spending over 50 percent of his or her time in the office is doing a disservice.  Go where the action is.  Leaders are also called collaborators-they keep a team, employees, customers, partners, and investors passionate about the company's direction and execution.  Tenacity, stubborn optimism, and the ability to shape markets with their own hands mark Blueprint winners.
Leadership pairs are primarily inside and outside facing.  In the majority of cases, the CEO serves as the externally facing leader (Mr. or Ms. Outside) who shapes the revenue-centric essentials.  The COO serves as the internally facing leader (Mr. or Ms. Inside) who manages the operations-and innovation-centric essentials. 
Growth is never perfect or without the need for self-correction.  Linking the essentials-Link the big idea with markets and Marquee Customers-Link the company's resources to the front line-Establish a board of Essentials Experts.  Growth has two themes: getting on trajectory and correcting to get back on it when the inevitable stumble takes place.  The world is more than changing: It is restructuring with new market shifts.  The opportunity to create new Category Killer superstores is limited because there are fewer price-inefficient categories.
Most of us need some sense of belief that the place where we work-where we spend the greatest part of our day and most of our energy-is a "good" or "great" place to work.
(BOOKS) The War for Talent and a Cool Million