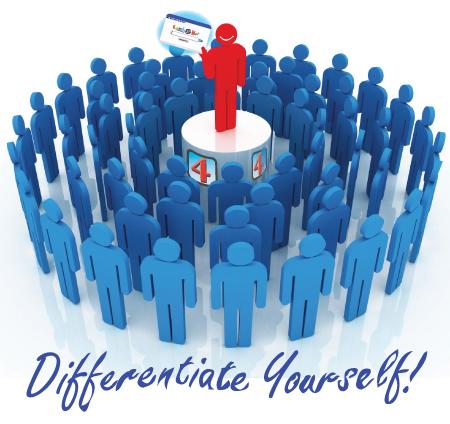 The best way to be successful in business is to differentiate yourself from everyone else.
Everyone knows they need to differentiate but for some reason they just don't do it.
They are too busy watching everyone else to see what they are doing.
NEWS FLASH: Everyone else is BROKE. It's the blind leading the blind.
One thing that we have done to separate ourselves from other "boot camps" and "personal trainers" is that we don't use the same lingo as them.
They talk about boot camp sessions, personal training sessions, semi private training sessions, etc…….
(which by the way are all based on "features")
We talk about the end result.
When someone comes to your studio, they want to "transform" and become a better version of themselves. They want the end result.
Most want to lose fat and gain tone.
Some want to build mass.
So why not sell them a program based on the "benefits" and NOT the features.
Personal training, boot camp, semi private training sessions are just vehicles.
Not final destination.
Why not sell them the final destination.
A program that will get them to their goal.
Let me give you an example:
I had a guy come in a few months ago that needed to lose about 40lb.
He had high cholesterol, blood pressure and borderline diabetic.
He asked "Sam, can you help me lose 40lb"
I said "I can guide you, but ultimately you have to show up and do the work"
He said "How much will it cost"
I replied "We have a 12 week fast track to fat loss program that cost $497/month"
I then proceeded to show him a page full of people who have been through that program and have lost 25-50lb.
He asked "what do I get for $497"
I replied "results"
Confused he asks "how long are the workouts?"
I replied "workouts are going to be as long as we need to get the 40lb off, it might be 20 minutes, it might be 3 hours"
He then pulled out his credit card and paid in full for the program. He went on to lose 47lb and now he worships our facility.
Let me explain something to you….
1) You have to be RESULTS based not WORKOUT BASED"
2) You have to CLEARLY let them know your expectation upfront. (people respect that and it shows you're results based)
3) Don't talk in apples, talk in oranges.
DON'T EVER GIVE THEM SOMETHING THEY CAN COMPARE YOU TO. IF SOMEONE DOESN'T KNOW YOU, ALL THEY WILL DO IS CALL THE NEXT PERSON AND SEE HOW MUCH THEIR "APPLE" COST.
Make sense?
Flip the script on them. That's how you stand out and become the ONLY choice in town.
Sam,
PS – I would like to invite you to spend a day with me inside my 7-figure business and let me show you how easy it is to become the ONLY game in town. To get more information and details email my right hand man XavierRSanchez@gmail.com