Check out these 10 famous athletes who overcame hardship to be the best.
Babe Ruth
You could call Babe Ruth's 1,330 strikeouts as an "epic fail." In fact, Ruth held the record! Yet, always the optimist, Babe said, "Every strike brings me closer to the next home run." Despite his many poor performances at bat, The Great Bambino ended up with 714 home runs during his career, earning him a spot in the Baseball Hall of Fame.
Muggsy Bogues
In a world of giants, NBA player Tyrone Muggsy Bogues was the shortest player in history, standing at 5 foot 3 inches. In fact, most of his teammates were a full two feet taller than him! Despite his size, Bogues had a successful 14-year career with the Washington Bullets, Charlotte Hornets, Golden State Warriors and Toronto Raptors – finishing with 6,858 points, 6,726 assists and 1,369 steals.
Joannie Rochette
Few obstacles are more heart-wrenching than the death of a loved one. Just days before taking to the ice at the 2010 Vancouver Winter Olympics, Quebec figure skater Joannie Rochette's mother died suddenly of a heart attack. Despite the emotional toll this must have taken on her, she won the Bronze medal.
Monica Seles
Athletes are used to fans who love them obsessively. Yet, some fans have a few screws loose. In 1993, a deranged fan leapt out of the stands and stabbed tennis champion Monica Seles in the back with a 10-inch blade. After two years of recovering mentally and physically, Seles won the 1995 Canadian Open, the 1996 Australian Open and a bronze medal in the 2000 Sydney Olympics.
Lance Armstrong
Despite being diagnosed with testicular cancer in 1996, with tumors that had spread to his brain and lungs, Lance didn't let the poor prognosis get him down. Three years later, he won the Tour De France – which he won another record-breaking six times during his professional cycling career. He won athlete of the year awards from ESPN, ABC Wide World of Sports, Sports Illustrated and the BBC.
Tom Dempsey
Tom Dempsey was born without toes on his right foot or fingers on his right hand. Despite his handicap, Dempsey was on wrestling and track teams throughout high school and played on the defensive line of his college football team. He is best known for his 11-year career in the NFL (playing for the New Orleans Saints, Philadelphia Eagles, LA Rams, Houston Oilers and Buffalo Bills) — and for kicking a game-winning 63-yard field goal (the longest in history) in 1970.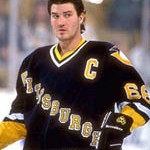 Mario Lemieux
In 1993, hockey fans thought top draft pick Mario Lemieux would probably exceed Wayne Gretsky's record for goals and points scored in a single season. Amazingly, Lemieux only missed two months of game play while he underwent aggressive radiation therapy for Hodgkin's lymphoma cancer. Upon returning, he led the Pittsburgh Penguins to the Playoffs and won his fourth consecutive scoring title. He was inducted to the Hockey Hall of Fame in 1997.
Kobe Bryant
NBA star Kobe Bryant was in some serious sh*t after being accused of rape in 2003. Even though the initial case was dropped and the civil lawsuit settled, Bryant's reputation was severely tarnished. He lost endorsement contracts with Nutella and McDonald's, and sales of his jersey plummeted. Some players would slink off into anonymity, forever shamed by their past. Not Kobe! The next season, he set multiple scoring records and received his career-high 81 points against the Toronto Raptors in 2006. In 2007-2008, he won the Most Valuable Player Award. Even though the Lakers lost the 2008 Finals, Kobe led the team to win the championship in 2009 and 2010.
Stan Smith
Tennis player Stan Smith couldn't even be the "ball boy" for a Davis Cup tennis match because he was "so clumsy and uncoordinated," say event organizers. He proved them wrong by winning Wimbledon, the U.S. Open and eight Davis Cups.
Tom Landry
Coach Tom Landry had one of the worst seasons on record with ZERO wins! During another four seasons, his team won five games or less. Pitiful, right? Yet, Landry also brought the Dallas Cowboys to five NFC Championships and two Super Bowl victories. Today he still holds the record for the most career wins, in fact.