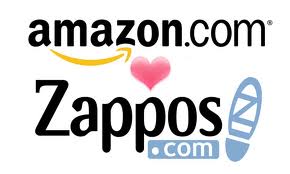 You heard me right, Amazon paid $1.5 billion for Zappos. That was no accident, actually Jeff Bezos, CEO of Amazon, said he felt he got a great deal. The question is why? What was he paying for? The answer was "WOW"
Hey Armando Cruz here for Super-Trainer.com and I am going to give the 10 core values that turned Zappos into a 1.5 billion dollar company and how you can apply these rules to create a tribe of happy, responsive, and committed employees that consistently creates a WOW experience for your clients.
Zappos 10 Core Values To Implement In Your Company Daily

As Tony Hsieh say, "Make WOW and everyday verb used in you vocabulary and in each client interaction." How can you deliver a WOW in your service?
I think this speaks for itself. "If you are not moving forward your moving backwards." So learn and embrace change to propel you biz forward.
How can you make your place weird and wacky? People, meaning employees and clients want to have fun. Don't take yourself so serious.
Zappos is a risk-taking organization where making mistakes is encouraged.  "Only those who dare to fail greatly can ever achieve greatly." Be creative and push the envelope.
Zappos has its own library of books that help with personal growth, communication, soul purpose, business, and more that they encourage their employees to read. They have also included many of them in their training process. Learning is a lifelong pursuit. What was the last book or manuscript you read? You should shoot to read a minimum 1 book a month. Most Americans don't read a book a year. Step up and get your learn on!
Communication is the key to any relationship. The more you can communicate with your employees and clients the better. If you did this alone your business would improve.
At Zappos employees work together, play together, break bread together and come to think of each other as members of an extended family. How can you form your community like this?
Often we think we need lots of money to achieve success. To create real value all you need is a little creativity with what you have. If you are reading this don't think you are not creative. Remember you are a fitness entrepreneur and you wouldn't gotten here without adapting to your circumstances.
"If you don't love it you won't do it – well," is what I tell me trainers and employees. You have to be passionate about all your goals and the more people you can convince to buy into your vision the greater chance of success it has.
You may be great but who cares. Be cool. Be humble and appreciate your clients and employees.
I know that most people WILL NOT take the time to apply these 10 core values to your biz because it is difficult. I can guarantee that if you implement and execute these values daily you will develop a culture and develop a community that can't get enough of you and your business.
*On a side note: Read Tony Hsieh's book, "Delivering Happiness". It is great.
Cheers,
Armando Cruz MSPT, ATC/L, CSCS