SUPER-TRAINER LICENSING PART 3: MARKETING (Value: Over

$2,000

)
Marketing is the one thing standing between you and a six-figure personal training business.
It's also the hardest thing to learn, test, and implement, especially when you're getting started.
But with your Super-Trainer License, your marketing is done for you.

Full Website Content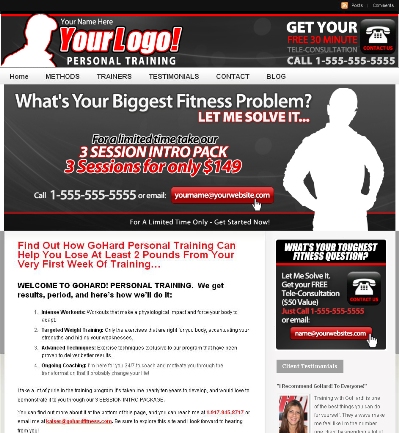 ? The sales-copy on your web-site home page to make sure customers buy from you? Done.
? All of the writing on all the other pages of your website? Done.
? An offer that will get people to contact you the first time they visit your site? Done.
? Want a video that will make your visitors bond with you and much more likely to train with you? You'll get the full script.

Search Engine Optimization
Does optimizing for the search engines confuse you?  In addition to the set-up and content of your website, your site will also come  fully optimized from top to bottom according to the latest information in search engine marketing.  This can have your site showing up tops in the search engines in a matter of weeks, bringing waves of new leads.

Done-For-You Craigslist Ads
You'll also get two fully designed Craigslist ads with your branded colors, your logo, your business name, and your pictures.
These ads are so good, you can use them as-is for any print advertising you're planning to do as well.

Your license is designed for only one thing: to bring you results.  Without everything above, immediate results wouldn't be possible. That's why it's all included.
But the head-start you'll get with this program still isn't complete.  Click the button below to check out the next page and learn about the biggest piece in all of it.
"No one can tell me what to do anymore."
Kaiser, thanks for all the stuff you've done for me so far. I've spent a lot of money with you, but all of it's paid me back at least fifty times over.
Super-Trainer has been my guide in the Personal Training industry, guiding me all the way to where I am now – running my own training business, with new clients coming in all the time.
To tell you the truth, I never even knew that being a trainer was like this. I thought it was all about the office politics in a big gym.  But with my clients now, I get to keep all the money. And the best part is I don't have to answer to anyone anymore. I have no boss and no one negative to deal with. If I want a day off I take it, and if I want to do something, I do it, and no one can say anything about it.  The freedom I have is the best part of all of this and you can't put a price on that.

Greg Crawford, CSCS
Owner, It's a Lifestyle Fitness
Northern New Jersey
"Intelligent, thoughtful, and relevant."
Kaiser, it's been almost exactly a year since I first stumbled upon Super-Trainer, and I guess you could say "you had me almost from hello". It didn't take me long to realize the intelligent, thoughtful and relevant message of that blog, and I've been a fan ever since.
Those three words "intelligent, thoughtful, and relevant" describe the work you do on Super-Trainer. Thanks for everything you do for our industry and keep up the good work.

Greg Justice
President, American Association of Personal Trainers Owner, AYC Fitness Center, Kansas City, KS
CLICK THE LINK AT RIGHT TO CONTINUE